Digital Healthcare eXperiences (CANCELLED)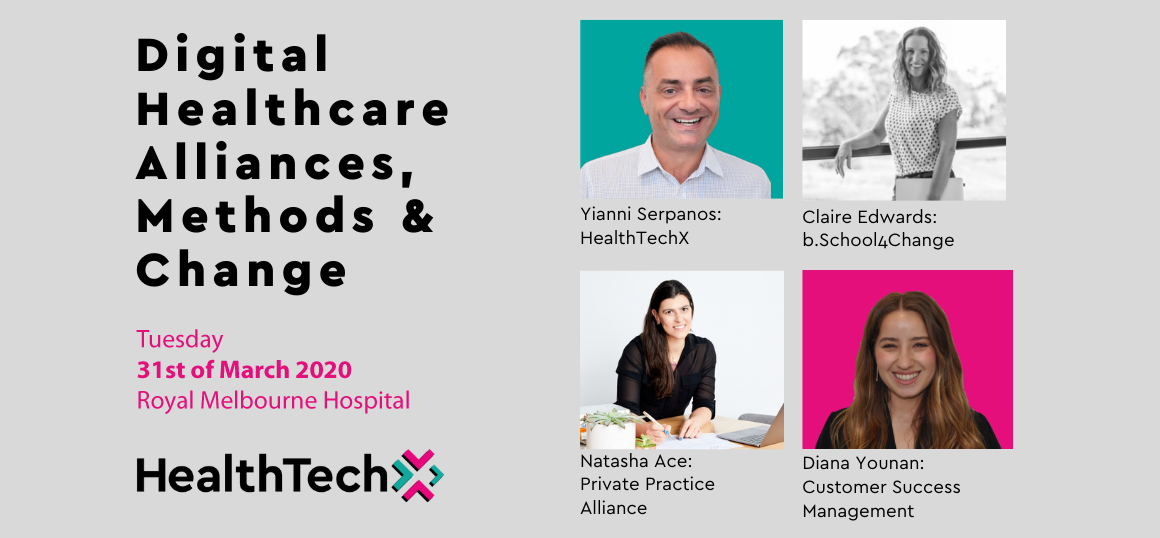 Learn how to embrace digital health to improve client experience and satisfaction through their healthcare journey.
EVENT SUMMARY:
Date: Tuesday March 31st, 2020
Venue: Royal Melbourne Hospital
Early Bird tickets from $199 (Early Bird ends 9th of March)
Group booking discounts
Tickets strictly limited
Who is this event for?
This event is designed for Allied Healthcare providers.
What will I learn?
You will learn about Digital Health and how it can be used in designing Digital Healthcare eXperiences that enhance the delivery of modern healthcare and client outcomes.
After attending this event, you will take away the following learnings:

- DIGITAL HEALTH: WHAT IS IT AND WHAT METHODS ARE AVAILABLE FOR YOU TO EMBRACE IT.
- HOW TO FORM HEALTHCARE COMMUNITY ALLIANCES AND SUPPORT HOLISTIC HEALTH.
- USING THE LEADING CHANGE MODEL FOR HEALTHCARE SERVICE TRANSFORMATION.
- HOW TO DESIGN CLIENT CENTERED JOURNEYS USING DIGITAL HEALTH.
Will I be able to network with other Allied Healthcare providers?
Yes! You will also have the opportunity to network with other allied healthcare providers accross the various fields of healthcare throughout the day.
Background
Providing healthcare brings many and varied challenges, especially in a time of ever-changing schemes (e.g. NDIS), health technologies and diversity in people (teams and clients).
But what if we could develop an approach to providing healthcare that helps you to integrate with, and empower your client's healthcare goals with real world and digital health services?
An approach where your healthcare services fit into the lives, schedules, goals and aspirations of "all" your clients…and they love it and recommend your services.
So what's key to doing achieving this? Broadly, there are two key things:
One…
Understanding Digital Health and its role in connecting you to the system of healthcare and the lives of your clients!
And…
Creating an agile and innovative team culture that is acting on the changes needed within and around your healthcare services.
We will explore innovative concepts and methods that will enhance your understanding of digital health, how to work with it and practical methods you and your team can systematically implement to help your clients goals and satisfaction.


SPEAKERS & PROGRAM:
YIANNI SERPANOS: DIGITAL HEALTH: WHERE IS AUSTRALIA AT AND WHAT METHODS ARE AVAILABLE TO US TO EMBRACE IT.
Roles: Yianni is a digital health tech innovator and Producer & Host – The Reimagining Healthcare Podcast, Founder & executive director of healthtechx.com.au, coreplus.com.au & abilityx.com.au
Yianni will provide a top down snapshot of digital health in Australia, including explaining what it is, examples of tools and how to approach implementing it to ensure you're providing a clinically safe, seamless, secure and private digital healthcare service.
DIANA YOUNAN: DESIGNING CLIENT CENTERED JOURNEYS WITH DIGITAL HEALTH.
Roles: Diana is a passionate client experience advocate and Customer Success Manager, coreplus, focused on understanding and designing better client experiences using digital health technology.
Diana will talk about the key elements needed to design, develop and implement client centered journey's for your clients that take into consideration the healthcare goals/ outcomes as well as the overall experience of being a client of yours.
NATASHA ACE: HEALTHCARE COMMUNITY ALLIANCES: THE POWER OF BECOMING PART OF YOUR LOCAL HEALTHCARE ECO-SYSTEM.
Roles: Natasha is a stabilizer for unstable private practices and Founder of Private Practice Alliance, focused on supporting private practices to be successful across all key areas of development.
Natasha will talk to the value to you as a health provider and your local community of peers and clients based on strong community networks, word of mouth and alliances, including lived experience and methodology to build or rebuild this aspect of healthcare.
CLAIRE EDWARDS: THE LEADING CHANGE MODEL OF HEALTHCARE – ADAPTING AND THRIVING IN CHANGING TIMES.
Roles: Strategy, Change & Leadership Consultant, Director & Founder of Claire-edwards.com, pledge4change.org and b.school4change
Claire will explain the Leading Change Model to help you develop a more successful and thriving healthcare service experience moving toward optimal services, improved client experiences/ outcomes and overall satisfaction for clients and teams.
The day will conclude with a panel discussion with a focus on the future of digital healthcare.

TICKETS - EARLY BIRD RATES UNTIL 9th OF MARCH:
Early Bird Single: $199 ($250 Full Price)
Double ticket pass: $355
Triple ticket pass: $490

Tickets strictly limited
DATE AND TIME
On Tuesday 31st of March 2020 at 9:00am
Start Time:
Registration commences at 8:30am
Event will begin at 9:00am
End Time: 5:00pm
FOOD AND REFRESHMENTS:
Morning Tea
Lunch
Afternoon tea
*please contact HealthTimes upon booking if you have any dietary requirements.
Location
Royal Melbourne Hospital
300 Grattan Street, Parkville, VIC 3050
This event is currently closed and no contact details are available