The Art of Loving Men, May 16th, Ubud, Bali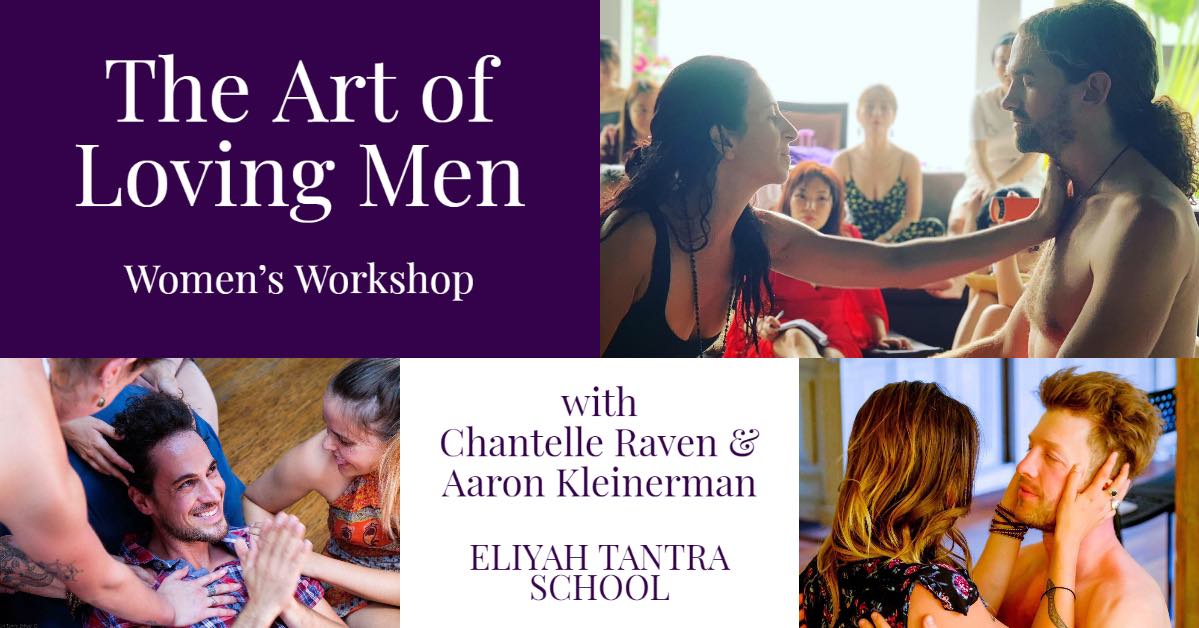 *What happens when women let go of the stories they tell themselves about men?
*What becomes possible when we heal past painful and unhealthy experiences with men?
*What exists when we can love a man without agenda or the need to control him?
- What is possible when we can deeply surrender and trust ourselves enough to fully trust a man?
In this one day immersive workshop, Internationally Renowned Tantra Teachers, Chantelle Raven & Aaron Kleinerman, will dive deep with you in exploring how to let go of your protective armor and open to loving with a transparent, receptive, trusting heart.
We will journey into this through experiential Tantric and Conscious relating practices THAT WORK.
We will also be guiding you into how to truly hold a man – all of him. You will have an opportunity to practice what you learn within a sacred ritual that male volunteers (who are participating in the Art of Loving Women workshop) will join us for in the late afternoon of the workshop.
This day is experiential. This is about real life.
This is about real opening to the innate surrender and trust that every woman longs to experience.
This is about real honoring and real worship of men and our own inner masculine.
This is about letting go of everything you think you know about men and leaning into your own brilliant ability to deeply love the masculine.
** For men, we have an opportunity to attend the final Ritual for the day (contact Aaron, details below) and come along to The Art of Loving Women Day the next day
https://www.facebook.com/events/495466294491993/
_
_________________________________________________________
WE WILL EXPLORE:
- Understanding masculine/feminine polarities; enticing desire and heightening chemistry
- How to love, honour and worship men and see them as the divine beings that they are
- Deepening into your own self-love journey with your own inner man and evolving your inner masculine energy
- The importance of realizing your boundaries for much deeper healing
- Surrender and trust both in and out of the bedroom to create more vulnerability and emotional safety
- Understanding what men and women need from each other to experience deeper levels of intimacy and connection
- How to hold space for a man whilst being in feminine energy, making it safe for him to open up emotionally to you
- Awakening a man's heart through sacred sexuality and Tantra
- Understanding the effects of emasculation on a man and how to heal this
__________________________________________________________
ART OF LOVING MEN WORSHIP RITUAL:
On the afternoon of the second day we will invite men to come into the temple to be worshipped in a sacred ritual. This will integrate the teachings you have learned.
If you have a partner, you will be welcome to invite him to be part of the ritual and to be partnered with you exclusively if you prefer. If you do not have a partner to invite we will have a group of incredible men that we will be inviting to join us in the ceremony.
Please let Aaron (Event Organiser, Host & Facilitator) know your partner's name (if you're bringing one) by emailing
thesoulnavigator@gmail.com
This part of the workshop is to bring men and women together in love, honour and reverence and this is a potent and powerfully healing ritual.
You can read the testimonials below from recent Art of Loving Men Worship Rituals to give you an idea of what you may experience.
Please come with your intention for healing as well as experiencing and learning.
Please note, although this is a workshop based around intimacy, nudity is not required and there will be no genital touch practices.
________________________________________________
WHO IS THIS FOR?
Any and every woman! Single, in a relationship or looking for a relationship.
Women who want to understand men and connect to them on a much deeper level.
It is for women who would like to learn more about how sacred sexuality can awaken and liberate a man's heart.
If you work with men intimately, this workshop is highly recommended for you, you will be welcome to share the practices with your clients.
________________________________________________
WORKSHOP DETAILS:
WHEN
Saturday 16th May, 2020
TIME
10:00 AM to 8 PM
Temple Ritual with Men 1800-2000
VENUE
Amatara Ganesha, Ubud
https://www.amatararoyalganesha.com
INVESTMENT
One day Single: 230 AUD
Early Bird: $200 AUD (until 25th March)
Bring a Friend Discount: 350 AUD (only $175 each!)
Strictly limited numbers.
Tickets required to secure your place as these events consistently sell out
CONTACT
Inquiries: Aaron Kleinerman (Event Host & Facilitator) thesoulnavigator@gmail.com
________________________________________________
YOUR FACILITATORS:
CHANTELLE RAVEN
C
hantelle has been facilitating workshops and retreats in the field of spirituality and Tantra for over 20 years. Inspired by Tantra, Psychology, Philosophy and Shamanism, she is an accomplished Teacher and Practitioner whose teaching style is pragmatic, comprehensive, down-to-earth, and always has an element of fun as well as intensity.
Chantelle grew up with meditation and personal development in her home. She was facilitating motivational workshops in her 20's as a successful CEO, and then after having her first child, moved into women's work, writing her first of many books. When Chantelle experienced a massive personal health crisis (cervical cancer) she then placed all her time and commitment into the alternative healing arts where she uncovered her heart's vocation in Tantra. Fast forward a decade and Chantelle has established the Eliyah Tantra School and has taught countless courses, workshops and retreats all over the world.
Chantelle's energy, knowledge and passion will inspire you to change the way you look at life, love, sex, spirituality and the emotional body in ways that will remind you who you really are.
For more information on Chantelle and her school visit: www.eliyah.com.au
AARON KLEINERMAN
A
aron Kleinerman is a Transformational Sex and Relationship Coach, Facilitator & Speaker. He is the lead male teacher for Eliyah Tantra School, a Tantric Practioner, and creator of 'The Conscious Mans Guide to the Bedroom.' He has learned from the great masters in the field of sexuality and transformation, including earning a master's degree in spiritual psychology. Aaron went from being a licensed captain navigating ships to a sexual behavior and movement specialist navigating souls. His workshops, retreats, sessions and speeches help humans integrate body movement, psychology, sexuality and spirituality. He speaks and teaches honestly and transparently so that others can unlock the real reason for their human existence. Aaron's mastery as a teacher provides the practical tools everyone needs to implement embodied awakened intelligence into daily life
________________________________________________
TESTIMONIALS FROM PREVIOUS WORKSHOPS / RITUALS:
'As a man in the world who does the internal work, to receive such an overwhelming amount of apology and understanding of us men, my masculine just feels so worshipped and supported. It makes all the work inside feel celebrated and worth it. It makes me want to keep going at it.'
'I've never heard anyone speak about things I've struggled with my whole life in this way. It allows me to work through a lot of the pain I've been through with women'
'I've never been apologized to by a woman in this way, it was an amazing feeling'
'I only cry 2-3 times a year and I was crying like a baby for 30-40 mins, it was such a powerful healing for me, thank you so much!'
'It really allowed me to receive my partner, it brought us closer together. It helped us work through balancing the masculine/feminine in our relationship and to work through some things from my childhood. It really highlighted the importance of bringing men and women together'
'Hi Such a potent workshop. I am still assimilating all that information. It was beautiful to witness the surrender of woman. Thank you for creating this workshop, it shakes your foundations in a good way and I will never be the same.'
'I just wanted to say again thank you so much for yesterday. The work you do and the energy you teach from is pure, passionate and love filled. I got a lot out of yesterday. The content was all things I was hoping we would cover!
It is fantastic you have another running - it's truly one of the greatest workshops I've ever done. I really enjoyed the group we had and I'm stoked I could contribute.'
________________________________________________________
CANCELLATION POLICY
Deposits are non-refundable
Cancellations: Strictly no refunds
You may transfer your spot to someone else, but this is your responsibility to organise before the event starts.
On Saturday 16 May 2020 at 10:00am to 8:00pm
Location
Amatara Royal Ganesha
Jalan Raya Lodtunduh No 88, Kecamatan Ubud, Indonesia, Bali =80571
Contact Details
The Art of Loving Men, May 16th, Ubud, Bali
Make a booking, click below
Resend tickets to your email address.
Contact the event organiser.
You can review the event organiser's terms and conditions here.
The Art of Loving Men, May 16th, Ubud, Bali
You can review the event organiser's terms and conditions here.
If you can't find your tickets, click here.
Your email has been sent.
The organiser will be sent the details of this message.

Sorry, there appears to have been an error. Please try again later.