"Stay Mindful" - Next Steps to a Happier and Clearer Mind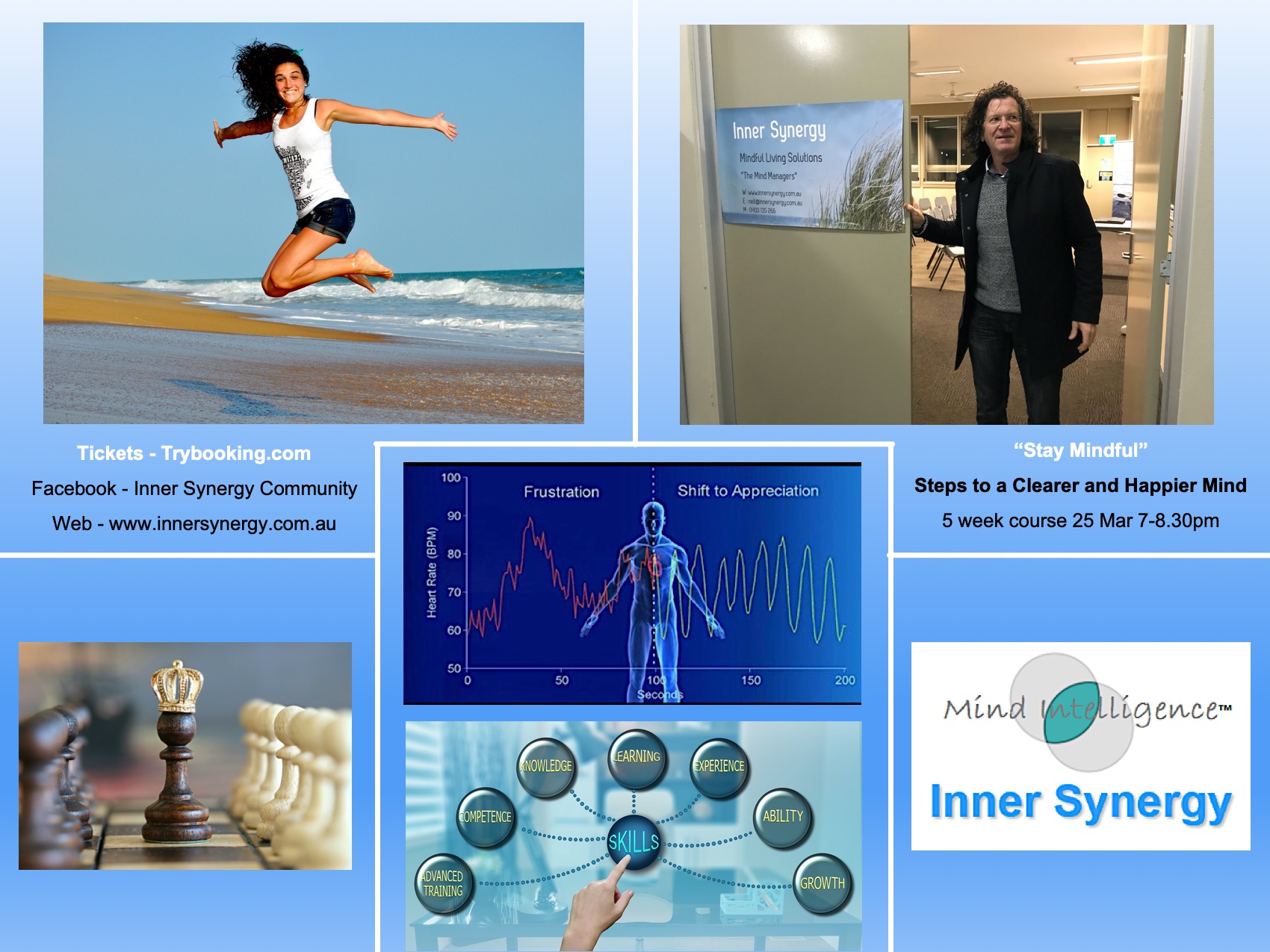 Learn how to reinforce and expand your personal mind intelligence skills by going deeper into our innate mind intelligence, mindfulness frameworks, expand practices and experiences. Mindfulness & meditation are now an invaluable life skill to possess in our busy information age.

You can further deepen your practice or simply start one anew. Either way you will experience techniques that are experiential, practical, relatable & science backed with a very experienced mindfulness educator.
Inner Synergy is offering this course as either a next level course or to create an amazing foundation towards Mindful Living and unleashing our innate Mind Intelligence TM. This course will support you to establish or develop a deeper mindfulness practice.
The course is run over 5 weeks and content is built each week so it is best to attend each week for maximum benefit.
Broad overview:
1. Intro revisited - What, why and the neuroscience driving its revolution. Building your practice, Experiential exercises, intro to layers of tools and new practices. Lots of new material and content delivered electronically with audio visuals.
2. Building Self-Awareness - why, what & how. Moving from reactionary modes and interventions for difficult situations. Longer experiential exercises including new quick practices.
3. Building Self-Regulation - why, what and how. Overlap of neuroscience, emotional intelligence, mindfulness and personal leadership. Undestanding and applying Mind Intelligence™.
4. Building Resilience & Stress Management - what, why and how. What we need to know for peak performance personally and professionally. How do we build and sustain resilience. Intro to biofeedback technologies.
5. Integration - Pulling it all together. Intro to values and goals. Exercises for better decision making, avoiding thought fusion and understanding experiential avoidance concepts. Tips and exercises for staying mindful at home and at work. Reinforcing and sustaining self management and acceptance.
Attendees will also have the option to purchase heavily discounted access to Dr Russ Harris's "Happiness Trap" 8 week online program as a follow up option if interested (optional additional cost - subject to availability)
25 Mar to 22 Apr - 7.00-8.30pm - 5wks
Sessions start promptly at 7pm - please arrive a little earlier if possible :-)
Location
Training Centre Blg to rear Hawker Anglican Church
The training venue room is located in a building to the rear of the Hawker Anglican Church. Follow the path that runs adjacent Beetaloo St and enter through a gate slightly off to the right. The training centre entrance is on the left once on the deck area.
196/198-206 Hawker Place, (note that this is a secular course), Hawker, ACT 2614
Contact Details
5 * Wednesday sessions from 25 March till 22 Apr 2020. Sessions run from 7.00pm till 08.30pm
"Stay Mindful" - Next Steps to a Happier and Clearer Mind
Make a booking, click below
Resend tickets to your email address.
Contact the event organiser.
You can review the event organiser's terms and conditions here.
"Stay Mindful" - Next Steps to a Happier and Clearer Mind
You can review the event organiser's terms and conditions here.
If you can't find your tickets, click here.
Your email has been sent.
The organiser will be sent the details of this message.

Sorry, there appears to have been an error. Please try again later.