Ultimate Treadmill Challenge

ABOUT THE EVENT
In 2007 Jane Kilkenny, owner of Fitness Energy, created the Treadmill Challenge and has raised over $160,000 for charity.
In 2013 we were fortunate to have Sebastian Terry (100 Things author & speaker) join us to raise money for Alzhiemer's Australia Vic.
2014 EVENT- Ulitmate Treadmill Challenge

From Friday 5th - Saturday 6th September 2014, come and join us - run/walk/jog and raise funds to help promote brain health.
Can't get to the event? We would love you to make a donation.
Brain health is important and we need to find a cure for dementia as soon as possible.
VENUE:
Fitness Energy
Shop 1 & 2 Hopetoun Road
Park Orchards, Victoria 3114
DATE:
Friday 5th - Saturday 6th September 2014(12 midday - 12 midday)
DONATIONS
:
Please make a secure online donation to Alzheimer's Australia.
BOOKINGS: Online bookings are closed.

EVENT SHIRTS: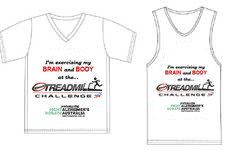 Event T-shirts and singlet tops are available for purchase - call us 03 9876 6800.
T-Shirts are $45 and singlets are $40
CONTACT DETAILS:
Jane Kilkenny - 9876 6800 - info@fitnessenergy.com.au
"TryBooking proudly supports charities by donating back all booking fees."

This event is currently closed and no contact details are available