Sacred Sexuality 8Wk Course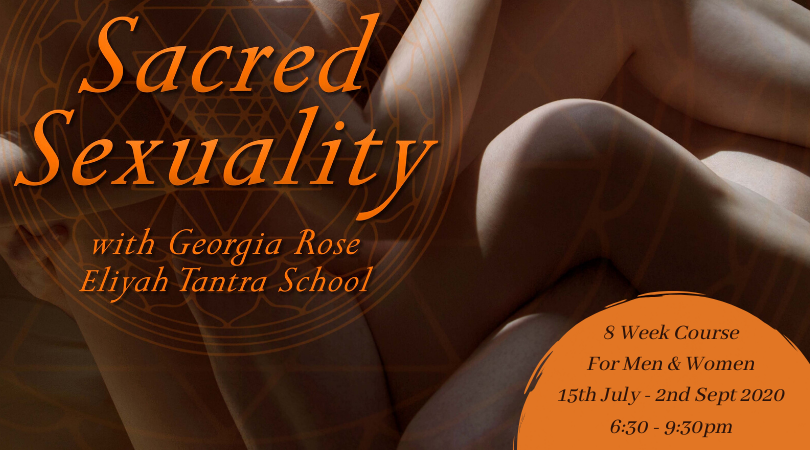 Join Georgia Rose of Eliyah Tantra School for a ground-breaking course that will transform your current paradigms of sexuality, relationships and pleasure, from suppression to liberation. Now more than EVER we need to tap into sacred sexual energy with an intention that goes beyond conception and orgasm, into a deep exploration and acceptance of Self. It is the energy that creates life on this planet… and it carries the power for radical healing and awakening.
_________________________________________________
WHO IS THIS COURSE FOR?
This course is for any man, woman (single or in a couple) who feels ready to receive a Tantric initiation into:
* claiming the hidden powers of your sexuality
* shedding fear, guilt and shame around sexuality
* rewriting your inner script on self-worth, sexuality and body-image
* experiencing life-force/sexual energy as a powerful healing modality
* embodying the Tantric Arts to entice desire with another through authenticity, safety and play
* connecting to the ancient power, magic and healing of your sacral chakra, to clear what no longer serves (including ex-lovers), and create what does serve your highest good
_________________________________________________
COURSE SUMMARY:
WEEK 1: FREEDOM FROM FEAR, GUILT AND SHAME
WEEK 2: SEXUALITY STARTS WITH YOU
WEEK 3: THE HEALING POWER OF YOUR HEART
WEEK 4: SACRAL CHAKRA HEALING
WEEK 5: ENTICING DESIRE
WEEK 6: SELF RESPECT AND HEALTHY BOUNDARIES
WEEK 7: POWER AND SURRENDER
WEEK 8: LINGAM & YONI WORSHIP
________________________________________________
ADDITIONAL BENEFITS INCLUDE:
1) Sacred Sexuality MANUAL: each week's teachings are powerfully detailed, and together with practices and homework, will take the course content from an intellectual understanding to an embodied, life-changing experience
2) FREE attendance to 4 additional workshops by Tantra-trained leaders, who are embodied, sexual, powerful beings. Details TBA.
3) ACCESS to the closed group: 'Eliyah Tantra Support'. Join a safe and sacred community of like-minded men & women who have attended Eliyah's Living Tantra courses. Ask questions, share experiences and make new friendships
4) Individual SUPPORT when needed by our highly trained support team, to guide you through any challenges along the 8-week journey
_____________________________________________________
COURSE DETAILS:
WHEN
8 Consecutive Wednesday evenings: Wed 15th July – Wed 2nd September
TIME
6:30pm - 9:30pm *Please be on time!
Arrival from 6:00pm to settle in and chat with others
VENUE
Mind, Body Heart Yoga Studio
81 Nanson St, Wembley, PERTH
INVESTMENT
• Full price: $750
• Early bird: $650 (until 24th June 2020)
• Under 21 years age: $500
• Couple/attend with a friend: $620 each
• Single parent's & Concession $500
• **Deposit for payment plan: $250
Tickets via "Book Now" button
Payment Plans available. Conditions as follows:
* Deposit of $250 to secure spot: non-refundable, remaining due by 1st September.
* For more payment plan details, email Course Facilitator: Georgia.rose.liberate@outlook.com
Contact Details
For questions please contact course Facilitator Georgia Rose via email: georgia.rose.liberate@outlook.com
YOUR FACILITATOR:
Georgia Rose is a skilled Practitioner, Teacher and Support Person for Eliyah Tantra School, weaving her life experience, expansive spiritual studies and Tantric teachings to deliver life-changing content and practices that will inspire and ignite your soul.
Georgia is passionate about bringing people together to truly take ownership of their life and become the empowered creator of their reality, centred in their heart, joy, passion and power.
Georgia has trained extensively with Chantelle Raven (the Founder of Eliyah Tantra School) for 4 years. Until she found Tantra, Georgia worked for 5 years in the adult industry. Sexual Healing has been a huge part of her journey and she is honoured to share her wisdom and will be delivering potent teachings to support you with deep transformation, healing, letting go of the past, integration and fully embracing all of you as a sexual, sensual, alive and embodied being.
For more information on Georgia, Chantelle and Eliyah Tantra School school visit: www.eliyah.com.au
Sacred Sexuality 8Wk Course
Click to be added to the Waitlist
Resend tickets to your email address.
Contact the event organiser.
You can review the event organiser's terms and conditions here.
Sacred Sexuality 8Wk Course
You can review the event organiser's terms and conditions here.
If you can't find your tickets, click here.
Your email has been sent.
The organiser will be sent the details of this message.

Sorry, there appears to have been an error. Please try again later.