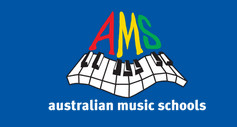 Join us for fantastic music classes!
AMS has been delivering top quality music education to Sydney Families for over 30 years. We're thrilled to be bringing you the same quality classes ONLINE so you can join us from wherever you are!
AMS Head Teacher Miss Lindi is teaching our brand new Tuesday morning session for ages 2-5. Songs, musical games, percussion, movement and music appreciation are all part of this fast paced, fun and educational course.
FIRST LESSON is TUESDAY APRIL 28 for 5 consecutive weeks. 10am (Sydney Australia time) for 30 minutes.
SPECIAL INTRODUCTORY OFFER for new students - 5 weeks of learning AUD$60.00
Click BOOK NOW and we'll send you an email with the codes to join the class as well as a 'treasure hunt list' of a few everday items from around the house that you'll need to have ready to go!
We teach Music to everyone from 2 year olds through to adults. (It's never too late!) We have beginners right through to advanced level Piano, Theory and Aural classes.
For more info and to book our special deals for age groups other than preschool, click here or paste into your browser: https://www.trybooking.com/BJJPM
The classes on this link are all for BEGINNERS but we have existing classes for all levels and age groups – so get in touch and let us know what you're looking for!
You can read about all our courses, our amazing results and some testimonials from AMS families on our website: www.australianmusicschools.com.au
'Thanks for the very best music classes ever! The program is so well designed and incredibly well delivered! We are so impressed both with our online and onsite lessons. We're all having a ball and we'll be recommending AMS to everyone!' Jacq, Sydney Australia.
Contact Details
This event is currently closed and no contact details are available