TWC Virtual Lunch: Aminata Conteh-Bigger / Nicole Abadee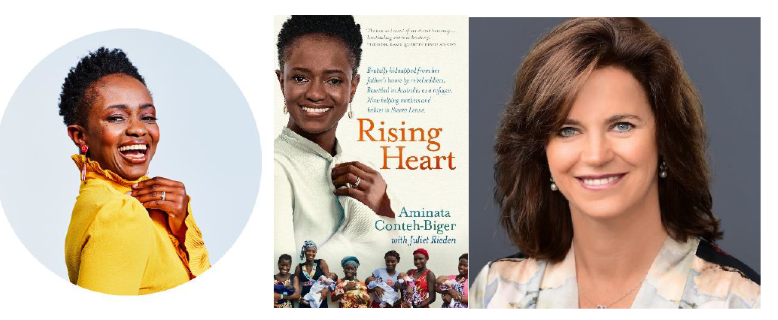 The Women's Club presents Aminata Conteh-Biger in conversation with Nicole Abadee
Virtually via Zoom Virtually via Zoom
Aminata is the Founder and CEO of The Aminata Maternal Foundation.
Growing up in Freetown in civil war-ravaged Sierra Leone, Aminata Conteh-Biger enjoyed a relatively charmed childhood She and her siblings were raised by their beloved father, Pa Conteh and family, faith and education were the focus of the family's way of life. That is, until 1999 when rebel forces from the Revolutionary United Front stormed Freetown, kidnapping a teenage Aminata from her father's hand. Held captive for months and subjected to horrors, Aminata was finally freed as part of a negotiated prisoner exchange. However, the United Nations High Commissioner for Refugees (UNHCR) recognised that one of Aminata' s captors posed a continued and serious threat to her safety.
With the support of the UNHCR, Aminata became one of the very first Sierra Leonean refugee women to be settled in Australia.
Since then, Aminata has built an incredible life in Australia. Now married with two children, it was the birth of her daughter, Sarafina, that drew Aminata to her life's calling; the Aminata Maternal Foundation (AMF). Sarafina's birth was difficult, with up to seven doctors in the delivery suite. Aminata was keenly aware that had she still been in Sierra Leone it was unlikely that she and Sarafina would have survived, and decided that she had to help her former countrywomen.
Founded by Aminata and managed by a small yet mighty team, AMF is a for-purpose organisation that empowers women in Sierra Leone by creating sustainable communities and offering maternal health aid. Shocking statistics such as how 52 years is the Sierra Leone woman's average life expectancy, and how 20% of children won't see their 5th birthday, are a grim reminder of the challenges the country faces.
Aminata's upcoming memoir, Rising Heart, is a powerful account of her incredible life, told in full for first time.
This very special event sees Aminata, in conversation with revered literary journalist Nicole Abadee discussing Rising Heart for the very first time. Attendees will have the opportunity to ask questions of Aminata and Nicole in the second half of the session.
Rising Heart is published by Pan Macmillan in October 2020. To pre-order a copy, or to find out more about Aminata and AMF, visit www.risingheart.com.au
Nicole Abadee is a Books writer, Festival Moderator, Podcaster and Literary consultant. Nicole currently writes about books and other things for Good Weekend. Her new podcast series Books, Books, Books is available on Apple Podcasts, Google Podcasts and Spotify.
BOOKING
Tickets $15.00
ZOOM DETAILS
Zoom login details will be sent to you on the morning of the Event.
SESSION DATE AND TIME
Location
The Women's Club
via Zoom,
This event is currently closed and no contact details are available