The Co-Taught Classroom: presented by Dr Paula Kluth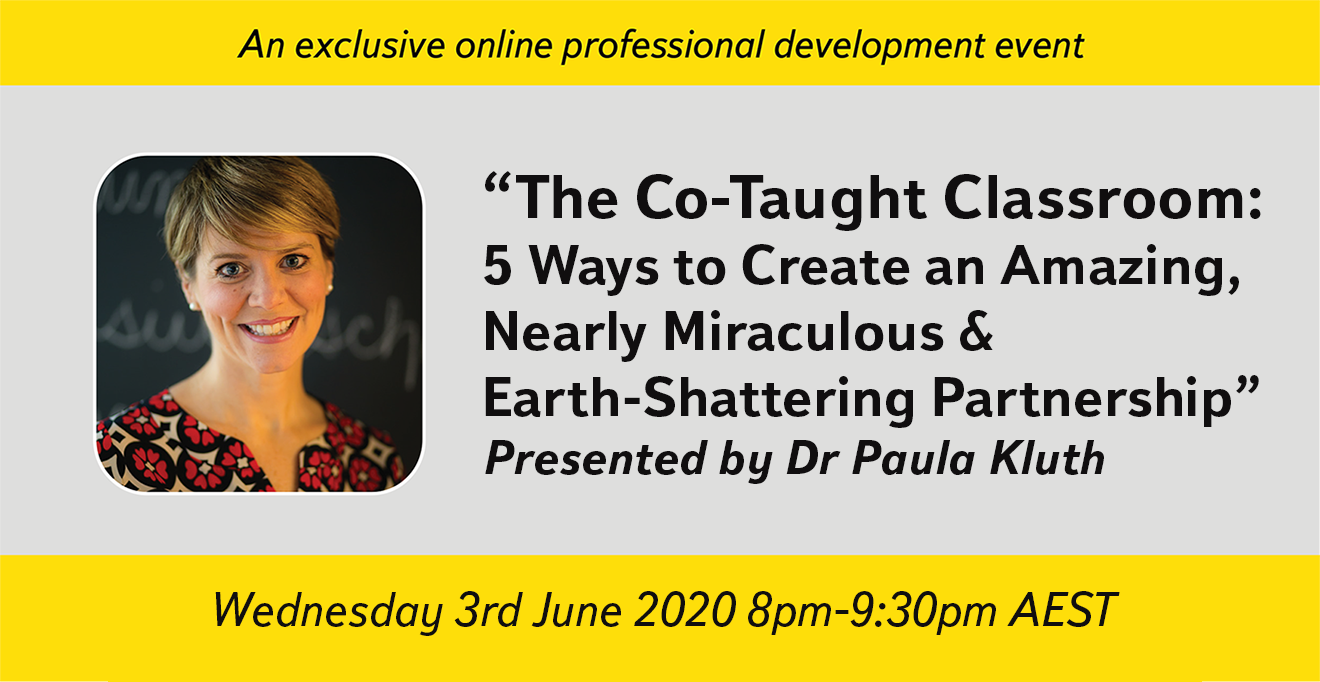 Participants in this workshop will become familiar with the critical elements of an effective collaborative team. This session is intended to encourage partners to talk and think about teaching beliefs, teaching roles, and collaborative behaviours.
Dr Kluth will discuss a variety of co-teaching structures (eg. Duet teaching, station teaching, parallel teaching) and explore ways educators can work together in shared classrooms. She will also share ideas for developing a shared vision, setting team goals, differentiating as a team, learning from your partner, and celebrating successes.
Please note: This is a live event and there will be an opportunity to ask questions. For those unable to attend the live session a replay will be available for ONE WEEK.
Location
Online event: web link to be provided by email 48 hours prior to event

terms and conditions
A web link and unique access code will be provided to the attendee email entered upon registration 24 hours prior to the event. Illume Learning takes no responsibility for emails not received due to errors or typos. Attendees should contact admin@illumelearning.com.au in the event a web link is not received 24 hours prior to commencement.
Cancellations must be made in writing to admin@illumelearning.com.au
Cancellations received more than 48 hours prior to the event commencement will be entitled to a refund of the online event fee minus a $20 administration fee
Cancellations received less than 48 hours prior to the event commencement will not be eligible for a refund
The replay will be available for one week only following the live event. No extensions will be possible.
Contact Details
This event is currently closed and no contact details are available