REPLAY - Universal Design Daily: presented by Dr Paula Kluth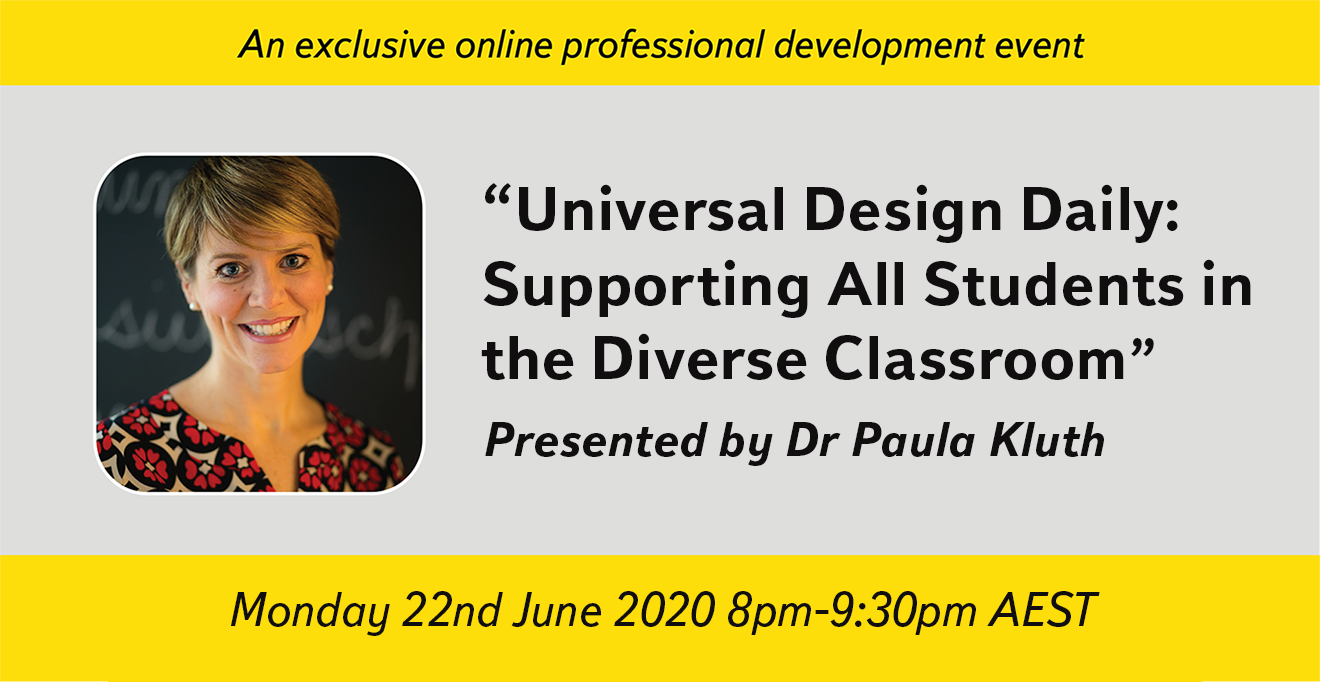 **REPLAY ONLY** - This live event has now passed. Please register using the 'book now' button above if you would like access to the replay. Please note this replay will expire at 8pm AEST Monday 29th June. No extensions or refunds are possible where the replay is not viewed before expiry. A password will be provided by email within 24 hours of registration.
I
t's undoubtedly important to teach in ways that honour learning differences and to structure lessons that are engaging, varied, and appropriately challenging. However, in this era focused on universal design for all, it is also critical to explore the underlying habits of mind related to "teaching them all".
Based on a new book of the same title, this presentation centres on big ideas related to teaching and learning. Paula will discuss the role of "teaching up" and presuming both competence and complexity. She will explore the need to focus on students strengths, passions and interests. She will also talk about the need to design lessons that are responsive and dynamic. This presentation contains video clips, classroom stories, examples, and illustrations. It will provide both point of reflection and practical strategies. More importantly, it features ideas to help all teachers better respond to the diversity that exists in their classrooms every single day.
Please note: This is a live event and there will be an opportunity to ask questions. For those unable to attend the live session a replay will be available for ONE WEEK.
Location
Online event: web link to be provided by email 48 hours prior to event

terms and conditions
A web link and unique access code will be provided to the attendee email entered upon registration 24 hours prior to the event. Illume Learning takes no responsibility for emails not received due to errors or typos. Attendees should contact admin@illumelearning.com.au in the event a web link is not received 24 hours prior to commencement.
Cancellations must be made in writing to admin@illumelearning.com.au
Cancellations received more than 48 hours prior to the event commencement will be entitled to a refund of the online event fee minus a $20 administration fee
Cancellations received less than 48 hours prior to the event commencement will not be eligible for a refund
The replay will be available for one week only following the live event. No extensions will be possible.
Contact Details
This event is currently closed and no contact details are available