Orpheus Music Composition Competition 2020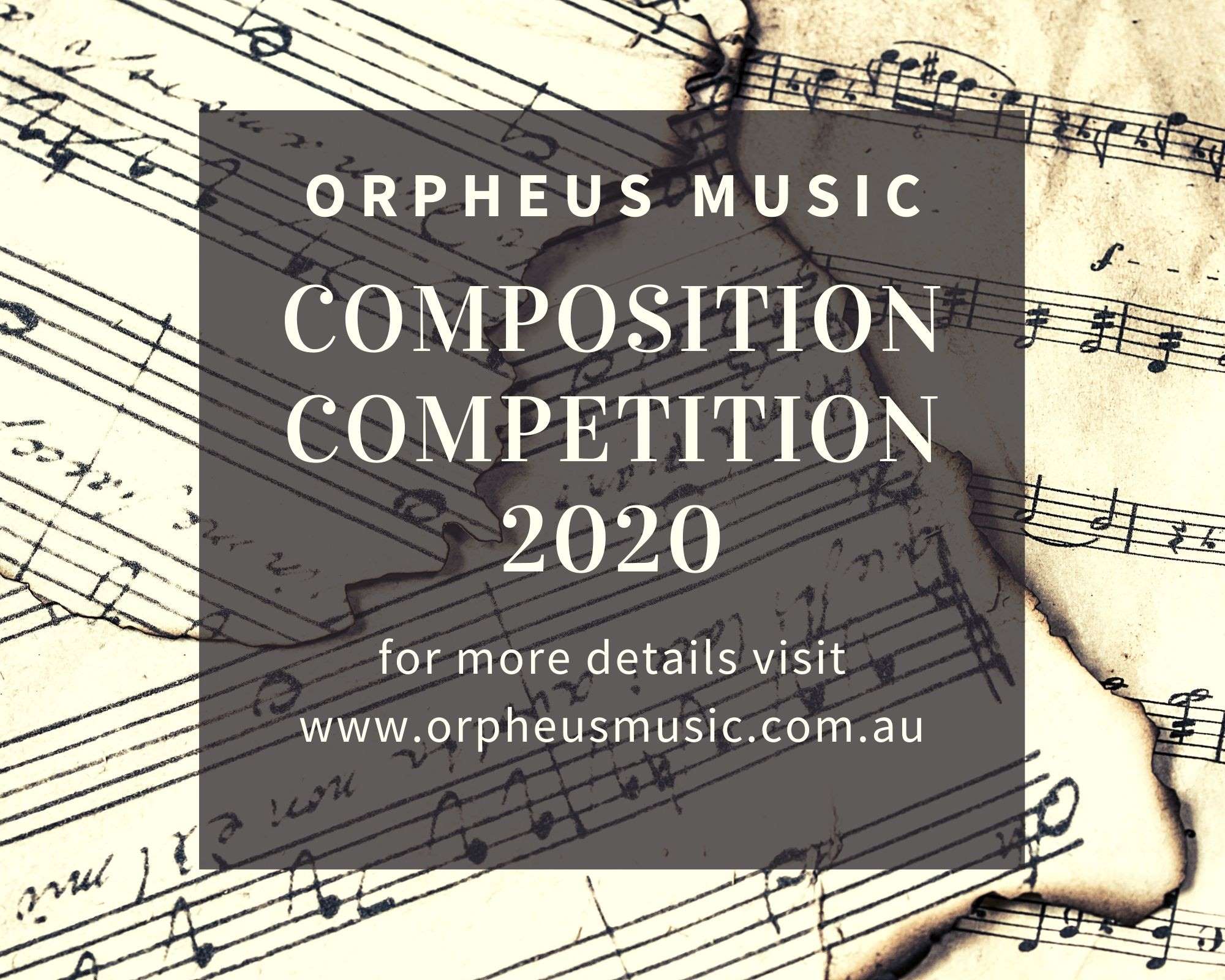 Orpheus Music Composition Competition 2020
Orpheus Music Composition Competition 2020
Orpheus Music is proud to announce an exciting new composition competition in 2020 to support and promote new Australian compositions for the recorder by deserving composers.
Apply for the opportunity to have your work premiered, promoted and performed. You may also be offered a Publishing Contract with Orpheus Music, and have your music (for recorder quartet) reviewed by Recorder Magazine (UK) and The American Recorder Magazine in 2021/2022.
Application deadline: 30 September 2020
Eligibility:
You are an Australian citizen, New Zealand citizen or you are an international or national student enrolled in a course of study in Australia.
You may enter for this competition even if you have been published by Orpheus Music before.
Open to any age.
Compositional Eligibility:
Composition must not have won a place in any other composition competition.
Must have been composed in the last 2 years.
One entry per person.
Application:
Step one - fill in an application form (trybooking link)
Step two - submit your composition to this address alex@orpheusmusic.com.au
Note: there is no application fee.
Format:
Please submit a score for recorder quartet electronically (PDF) by email to alex@orpheusmusic.com.au . You may submit a handwritten score. It would be our preference to receive an mp3 or midi recording along with the score - however, this is not compulsory.
Our selection process is anonymous. The score may not contain any identifying information (no name, publisher, or dates, please). Please make sure no identifying data or metadata is attached to the sound files, other than the title of the piece. The name and information of the composer (author) submitted in the registration process will be shielded from judges and revealed only after final selections have been made.
You may submit program notes of 200 words or less with an "Abstract" section.
Deadline for receipt of materials is 30 of September.
In the unlikely event that there is not sufficient participation to ensure a large enough pool of entries, Orpheus Music reserves the right to cancel the competition. Orpheus Music reserves the right to not award any prizes if there is deemed that there is not a sufficient level of compositional artistry in the scores submitted.
Compositional Criteria:
This competition is for Recorder Quartet.
There are no limitations on the level of difficulty for the composition
The composition should be between 3-10 minutes.
The Recorder Quartet may be written only for recorders. However, any recorders from the recorder family may be used These include the garklein, sopranino, soprano /descant, alto/treble, tenor, bass, great bass, contrabass, subgreatbass, subcontrabass.
Recorders can be used in any combination desired eg. SATB, SAAB, AAAA, etc...
You may section the composition into movements or keep it as one piece.
Places:
1st, 2nd, and 3rd places will be offered in each section. Winners will be announced 15th November 2020. Honorable mentions may be awarded by judges.
All place winners will have their composition recorded and each composition will be put to a popular vote in February/March 2021 with winners announced throughout April/May 2021
Prizes:
1st place - $700 + and a publishing contract* + plus a recording of composition
We would like to Thank the sponsor of the 1st prize, Sydney Society of Recorder Players.
2nd place - $300 + and a publishing contract* + plus a recording of composition
We would like to Thank the sponsor of the 2nd prize, Victorian Recorder Guild.
3rd place - $150 + and a publishing contract* + plus a recording of composition
We would like to Thank the sponsor of the 3rd prize, Society of Recorder Players South Australia.
AND
Compositions that do not receive a place may be considered for a publishing contract with Orpheus Music. If such an offer is made and you choose to accept, we can also offer to promote your published music with a recording, and to send your published Orpheus Music composition to be reviewed by Recorder Magazine (UK) and The American Recorder Magazine in 2021/2022.
We also have a popularity vote in 2021 where the recorder community around the world will be invited to vote for their favourite composition.
Popularity vote prize - Orpheus Music gift voucher of $100.
Note: Honorable mentions may be offered publishing contracts and enter the Popularity vote.
*Orpheus Music reserves the right to offer or to not offer publishing contracts to prizes winners. Prizes winners will receive prize money and recording with or without a publishing contract offer.
Judging Panel:
There will be four members on the judging panel.
Selection Process:
The judging panel will select three top prizes by November 15th.
They may award one or more honourable mentions
All entrants will be notified by email of their selection and prize.
All decisions taken by the judging panel are final and irrevocable. There will be no correspondence about the judges' decisions.
Disclaimer:
Orpheus Music may use photos, audio recording, and any videos on social media and use this to promote the competition and Orpheus Music without asking further authorisation from the contestant.
Questions may be addressed to alex@orpheusmusic.com.au
Contact Details:
Orpheus Music PO BOX 4689 Armidale NSW 2350 AUSTRALIA alex@orpheusmusic.com.au www.orpheusmusic.com.au
This event is currently closed and no contact details are available