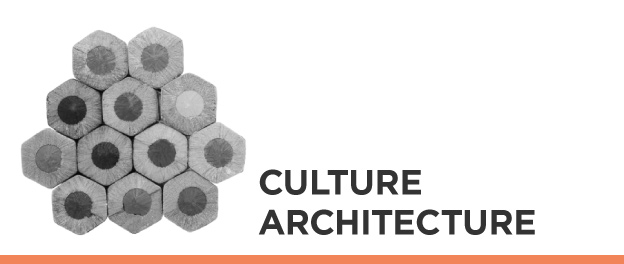 Tuesday 8 October 2013, 1 - 2pm

Drawing upon the 2013 World Architecture Day theme of
Culture-Architecture
, this lunchtime seminar showcases diversity and innovation in current architectural practice as a response to challenges facing both our profession and environment, from collaborative practice to biomimicry and an exploration of the new digital and media environment.
'By choosing CULTURE - ARCHITECTURE as the theme for the 2013 World Architecture Day, the UIA hopes to generate a wellspring of interpretations and illustrations of architects' diversity, richness, imagination, and capacity for invention through their designs and realisations' (INTERNATIONAL UNION OF ARCHITECTS, UIA, 2013)
Speakers:

-
Dylan Brady
, Director,
Studio505
on collaborative practice
- Stuart Harrison
, Director,
Harrison & White
presenting an abridged version of his
'Spirit of Place'
talk
-
Jane Toner
, Senior Associate, Biomimicry Specialist,
sbe Sustainable Built Environments
on biomimicry
This seminar provides one (1) informal continuing professional development (CPD) point per hour.

Competencies: Design
Resources:

- Salhani, P. 2013
'Spirit of Place: five views'
, ArchitectureAU

VENUE:
NH Architecture
Cannons House
Level 7, 12-20 Flinders Lane
Melbourne, VIC 3000
CONTACT DETAILS:
Victorian Chapter
Australian Institute of Architects
Level 3, 60 Collins Street Melbourne 3000

T: 03 8620 3866
E: vic@architecture.com.au


TERMS & CONDITIONS
1. The Victorian Chapter has the right to cancel or alter the dates, speakers or venue of an event. 2. In the event of cancellation, bookings will be transferred to the next available event unless the registrant requests otherwise. 3. No cancellations or refunds two (2) working days prior to the event. 4. People attending in replace of the registered person must pay the ticket fee associated with their membership type. 5. Please note that start and end times are an estimation. Some seminars may finish earlier or later than the proposed time.


Proudly sponsored by




To see other upcoming events going on in Victoria, see our Events page.
This event is currently closed and no contact details are available