Baby Imprints at Pottery Barn Kids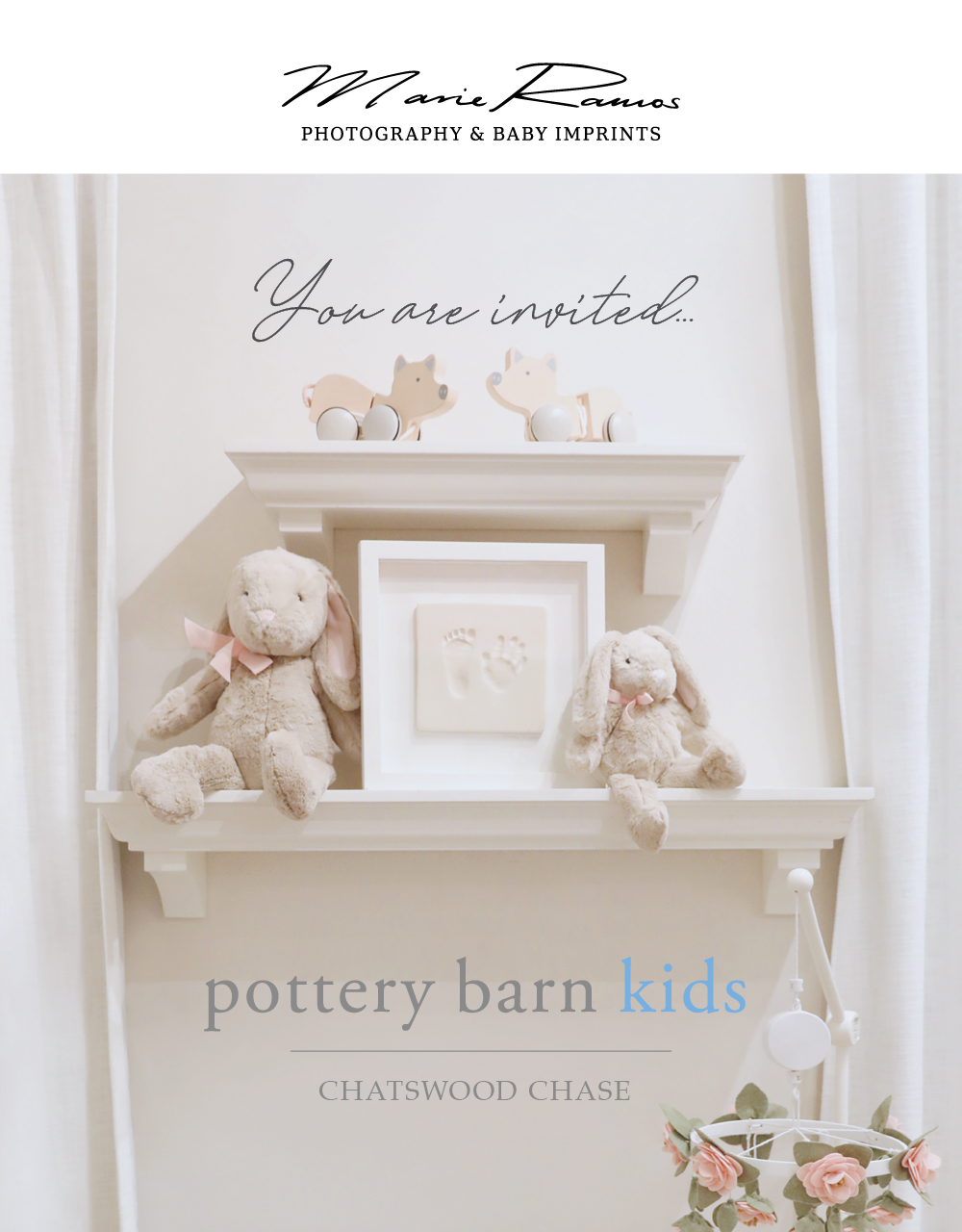 YOU ARE INVITED!
Pottery Barn Kids Chatswood Chase
Sunday 28th June | 11:00 am - 5:00 pm
We are delighted to be featured as special guests at Pottery Barn Kids!
To celebrate, we will be imprinting in store with savings over 50% on selected frames.
BABY IMPRINT FRAME $99 (SAVE $100)
Two imprints on a 6x6" matt ceramic tile,
presented in a white custom box frame.
(Add: $25 glaze | $25 alternate frame choice)

...
BOOKINGS ESSENTIAL
Due to social distancing, we are limited to the number of people visiting the store so bookings are essential with preallocated time slots available. For bookings with 2 or more children, please reserve 1 time slot per child.
HOW TO BOOK
Click on the button above and choose a time slot that best suits you. Follow the prompts to pre-purchase your $99 Baby Imprint frame. Selected upgrades available on the day.
...
OTHER SPECIAL OFFERS

SAVE 20% on ALL Photography and Baby Imprint Frames
The perfect opportunity to include imprints and photographs of your child/children in the same frame. Request a product brochure and select from 35 designs.
(Products must be paid in full during the event to receive the 20% discount. A gift certificate will be issued to you on the day and valid for 6 months)


GIFT CERTIFICATES AVAILABLE
Select from any of the above options and purchase as a gift certificate during the event. (Valid for 6 months)

We look forward to seeing you there!

For more information please contact our friendly staff at the studio
(02) 9418 8703 | 57 Centennial Ave, Lane Cove NSW | marieramosphotography.com.au
Pottery Barn: (02) 8046 3700 | L2/345 Victoria Ave, Chatswood NSW | potterybarnkids.com.au
Conditions: Full payment of $99 must be paid at the time of booking. In the event you cancel or do not show for your appointment, your payment of $99 is forfeited. Late arrival will impact the time allocated for your family, so please ensure early arrival. $99 Frame includes 2 imprints on a matt ceramic tile, presented in a white custom box frame. Alternate colours for frame and ceramic glaze available - payable in full on the day of the event. Pre-allocated dates and times available and must be booked using the link provided. For bookings of 2 children or more, please reserve 1 time slot per child. To take advantage of the 20% discount on Photography and Baby Imprint frames, products must be paid in full during the event, where a gift voucher is issued. All gift vouchers are valid for 6 months (Saturday bookings require a minimum spend of $600) Bookings close on the 27th of June at 4 pm.
sessions
See pre-allocated dates and times below
Location
Pottery Barn Kids Chatswood Chase
L2/345 Victoria Ave, Chatswood, NSW 2067
This event is currently closed and no contact details are available