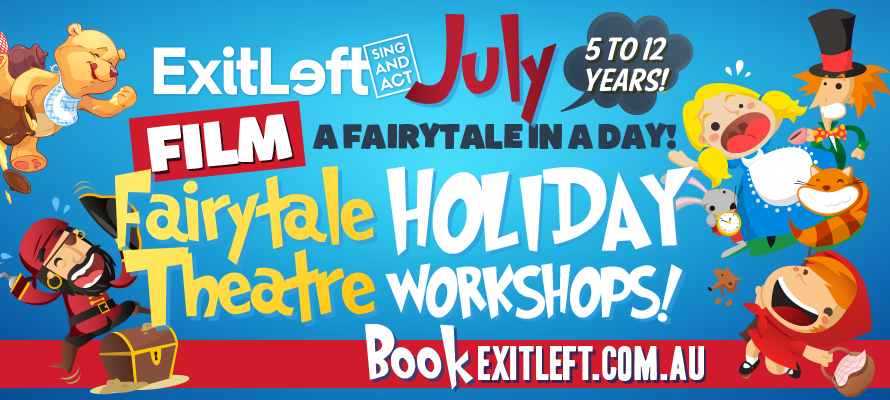 July Fairytale Theatre 'Filmed' Holiday Workshops
THE MOST FUN YOU CAN HAVE THESE SCHOOL HOLIDAYS!
Kids from 5 to 12 years will love these fun school holiday workshops in a single day! They will have a crazy time rehearsing, staging and 'filming' a classic version of a traditional fairytale! With age appropriate scripts, music and costumes kids will be learning some of basic performance skills, making friends and building confidence. Every child will have a role to play and the best part is that family and friends recive a copy of the recording at the end of the day!
IMPORTANT COVID-19 PRECAUTIONS
For the safety of everyone we have limited numbers at these workshops to 14 children at each session and will be ensuring students practice social distancing and appropriate hygene during the day (including temperature checks upon arrival).
We will not be able to provide morning and afternoon tea at these sessions, so children should bring appropriate food for the entire day and have their own bottle of water.
If your child is unwell on the day please keep them home and we will arrange to provide you with either a credit note for another workshop or a 50% refund of your fee.
Join us for these fantastic shows at ExitLeft Hobart:
Tuesday 7 July:
Winnie The Pooh
Thursday 9 July:
Alice in Wonderland
Tuesday 14 July:
Treasure Island
Wednesday 15 July:
Aladdin
Thursday 16 July:
Red Riding Hood
Workshop Details
Duration: One action-packed day of filming and fun
Time: 9:30am to 5:30pm
Performance: No face to face performance. You will receive a download link at the end of the day to see the film!
Age range: 5-12 years
Cost: $95, Early drop off at 8:30am is available for an additional $15
Where are we located
ExitLeft's Hobart CBD Studio: 46 Murray Street Hobart (we are near Hadley's Hotel)
Terms and Conditions
By registering my child for this workshop I have read and understood the following terms and conditions of enrolment:
Children must be 5 years old to participate.
Once a program has commenced no refund or credit note is possible.
If you miss a day, a credit or refund is not applicable.
Should ExitLeft need to cancel a program a full refund, credit or transfer to another course will be offered.
Cancellations received more than 5 working days from the commencement of the program will incur a 20% cancellation fee or you may request a credit note for the full amount.
If you need to withdraw from the program within 5 working days of the commencement you must notify ExitLeft in writing to request a credit note. If your child is unwell on the day and cannot attend, you will be offered a credit note for the full amount or a 50% refund.
Credit notes for Holiday Workshops will be valid for 6 months.
If your child is unable to settle, they refuse to participate or their behaviour is unacceptable (including adhering to social distancing guidelines) you will be contacted and asked to collect them immediately. No refund will be applicable.
Substitutions of participants can be made prior to program commencement by notifying ExitLeft in writing, provided participants are eligible for the course.
ExitLeft may offer a substitue workshop if workshop numbers are low. You will be notified up to 24 hours before and given the opportunity for a credit note or refund if this occurs.
Parts of the program may take place in locations other than the Studio. These excursions will all be within walking distance of the studio and students will be fully supervised.
You give permission for photography, video or audio recording of the student for teaching purposes, usage in promotional and publicity material for the ExitLeft Performance Academy, and on social media.
Fairytale Theatre Holiday Workshops are are a nut-free and iPad free zone.
July Fairytale Theatre 'Filmed' Holiday Workshops
This event is now sold out
Resend tickets to your email address.
Contact the event organiser.
You can review the event organiser's terms and conditions here.
July Fairytale Theatre 'Filmed' Holiday Workshops
You can review the event organiser's terms and conditions here.
If you can't find your tickets, click here.
Your email has been sent.
The organiser will be sent the details of this message.

Sorry, there appears to have been an error. Please try again later.