Get set for Plastic Free July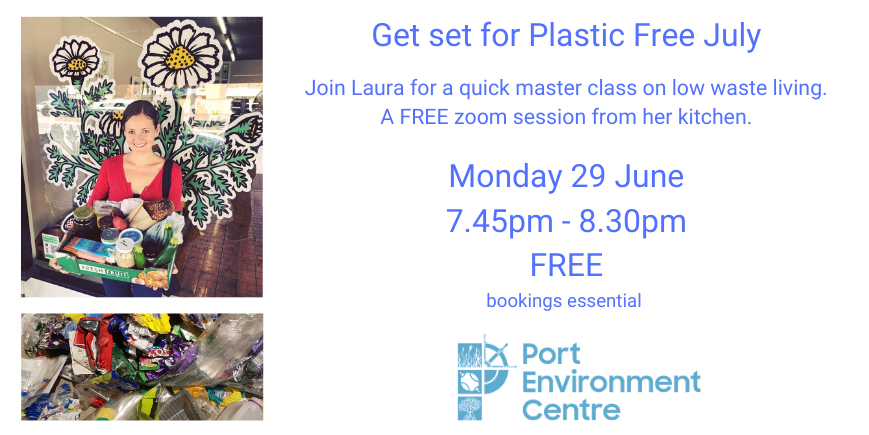 Join Laura (from Love Earth Laura and Reduce, Reuse, Recycle Radelaide) for a quick master class on low-waste living.

She'll be hosting this FREE zoom session from her kitchen; sharing tips and tricks to help you continue to reduce your use of single-use plastics.
ADDITIONAL INFORMATION
"So we've been trying to reduce plastic for years... What plastic-free ways have we mastered? What plastic are we still unable to avoid?"
Laura will lead the discussion live from her kitchen where plastic is becoming less and less but there are still some exceptions.
"How do we sort the plastic that comes into our houses for reusing and recycling? What reusable packaging do we use and how does this save money and time? When does this take extra money and time? How can we work with businesses, local government and beyond to reduce unnecessary plastic?"
Laura will share how her kitchen operates from shopping, to storing, to preparing food and separating the "waste" (packaging and food scraps).
Participants can ask questions and share ideas throughout.
Let's learn to use less single-use plastic together!
This is the perfect session if you want to continue your journey of REDUCING the amount of single-use plastics in your lives.
Plastic Free July is a global movement that started right here in Australia. Join over 120 million others from around the world this July and choose to refuse some single use plastics.
Be part of the solution to plastic pollution.
In the lead up to Plastic Free July, Port Environment Centre will also run an earlier session (How to Reduce single-use plastics - Wed 24 June) that introduces ideas to help you Reduce, Reuse and Recycle single-use plastics and covers some of the basics.
---------------------------------------------------
This session will be run online via zoom.
The zoom link and event instructions will be emailed prior to the event to those that have booked.
The Port Environment Centre is supported by the Adelaide Mount Lofty Ranges Natural Resource Management Board.
Contact Details
This event is currently closed and no contact details are available