What Are They Really Thinking?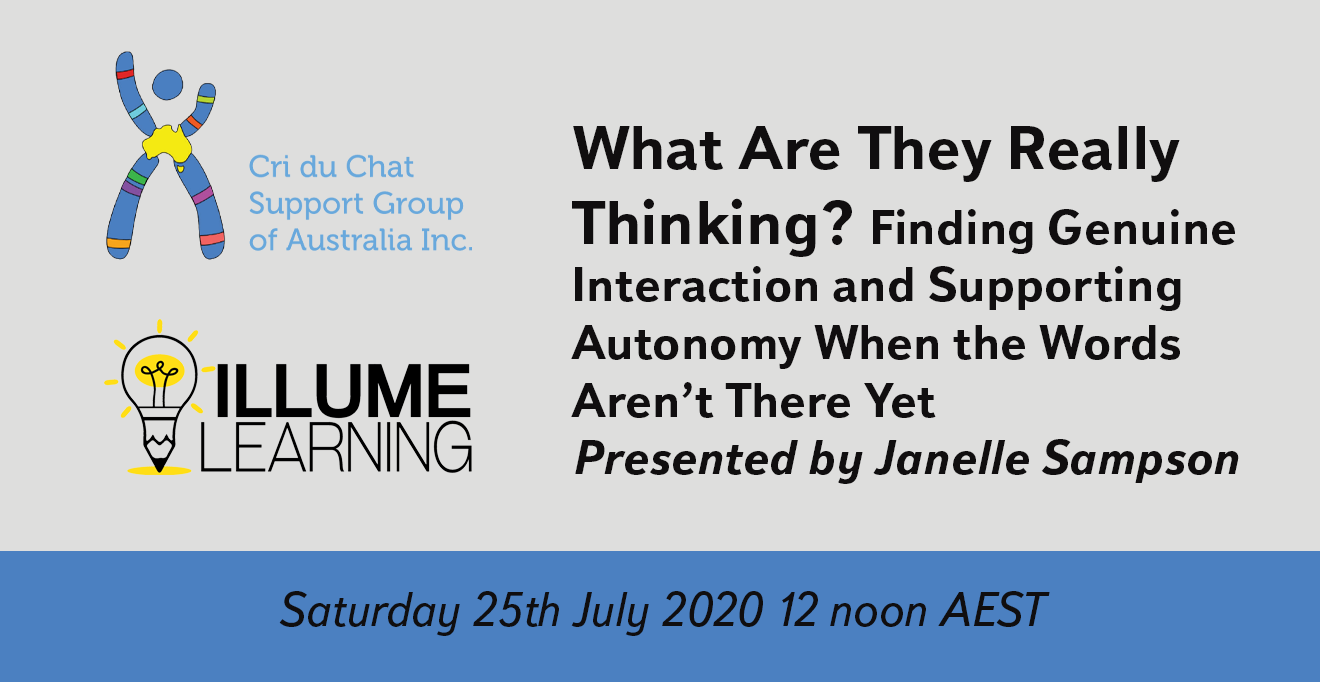 When a child or person has limited verbal speech, it can seem impossible to hear what they are really thinking. Hearing their thoughts and giving choice and control when they find it hard to tell you their ponderings and preferences can be an ongoing challenge.
You may have heard about Augmentative and Alternative Communication (AAC), but often it just seems like another therapy activity rather than an opportunity to chat, bond and empower your child. It doesn't have to be like this. All children (even adult ones) need something special from their parents. Something that teachers and therapists can never give. AAC can help you to do this if we go beyond the traditional way that we have only used it for choice making in the past.
This presentation will give an overview of AAC as a tool for interaction and self expression for those who have limited verbal speech. It will focus on the interactions that are important for families rather than just learning and practicing symbol use to achieve therapy goals.
JOIN US LIVE: AEST
A replay will be available for 30 days following the live session.
Janelle Sampson
Janelle Sampson is a Certified Practicing Speech Pathologist and has worked for over 30 years in both Australia and Canada, predominantly with a focus on Augmentative and Alternative Communication. In 2011, she founded Two Way Street www.twowaystreet.com.au in Adelaide where she provides workshops, consultation, individual intervention, and various other programs. Janelle has worked extensively with families, in schools and with other organisations to support children and adults with complex communication needs.
Two Way Street are a rapidly growing practice in South Australia who provide a range of services to support people with communication challenges with face to face services and workshops, as well as online programs, webinars and partnerships with Scope Victoria to introduce Communication Access initiatives throughout South Australia.
Janelle is also the author of the ROCC (Roadmap of Communicative Competence) Assessment www.roccassessment.com.au . She provides regular consultations and workshops around Australia for ROCC, PODD and other areas related to supporting people with communication challenges.
You can find out more about Janelle's views on communication and read her occasional blog posts at https://janellesampson.wordpress.com/
Terms and Conditions
A web link and unique access code will be provided to the attendee email entered upon registration 24 hours prior to the event. Where registrations are made less than 24 hours prior to the event, a web link and unique access code will be provided one hour before the event.

Illume Learning takes no responsibility for emails not received due to errors or typos. Attendees should contact admin@illumelearning.com.au in the event a web link is not received 24 hours prior to commencement.

Webinar replays will be available for 30 days from the live session. No extensions will be available. Refunds will not be offered in the event of non-attendance.

Cancellations must be made in writing to admin@illumelearning.com.au

Cancellations received more than 48 hours prior to the event commencement will be entitled to a refund of the online event fee minus a $15 administration fee

Cancellations received less than 48 hours prior to the event commencement will not be eligible for a refund.
This event is currently closed and no contact details are available