Please add your details to the wait list if you would like tickets for this concert, or if you would like to find out about future concerts in the forest at Callicoma Hill.
Vivaldi & friends in the forest
Andrew Blanch (classical guitar) and the Gully Line String Quartet
Callail Rowley, Zach Choi (violins), David Banney (viola) and Matthew Banney (cello)
An outdoor, acoustic concert on the mountainside at Callicoma Hill Eco-cabins, Hunter Valley, accompanied by the sounds of the forest and sunset

On Saturday 24 October 2020 at 4:00pm
(with a reserve date of Sat 31st Oct in case the concert needs to be postponed because of unsuitable weather)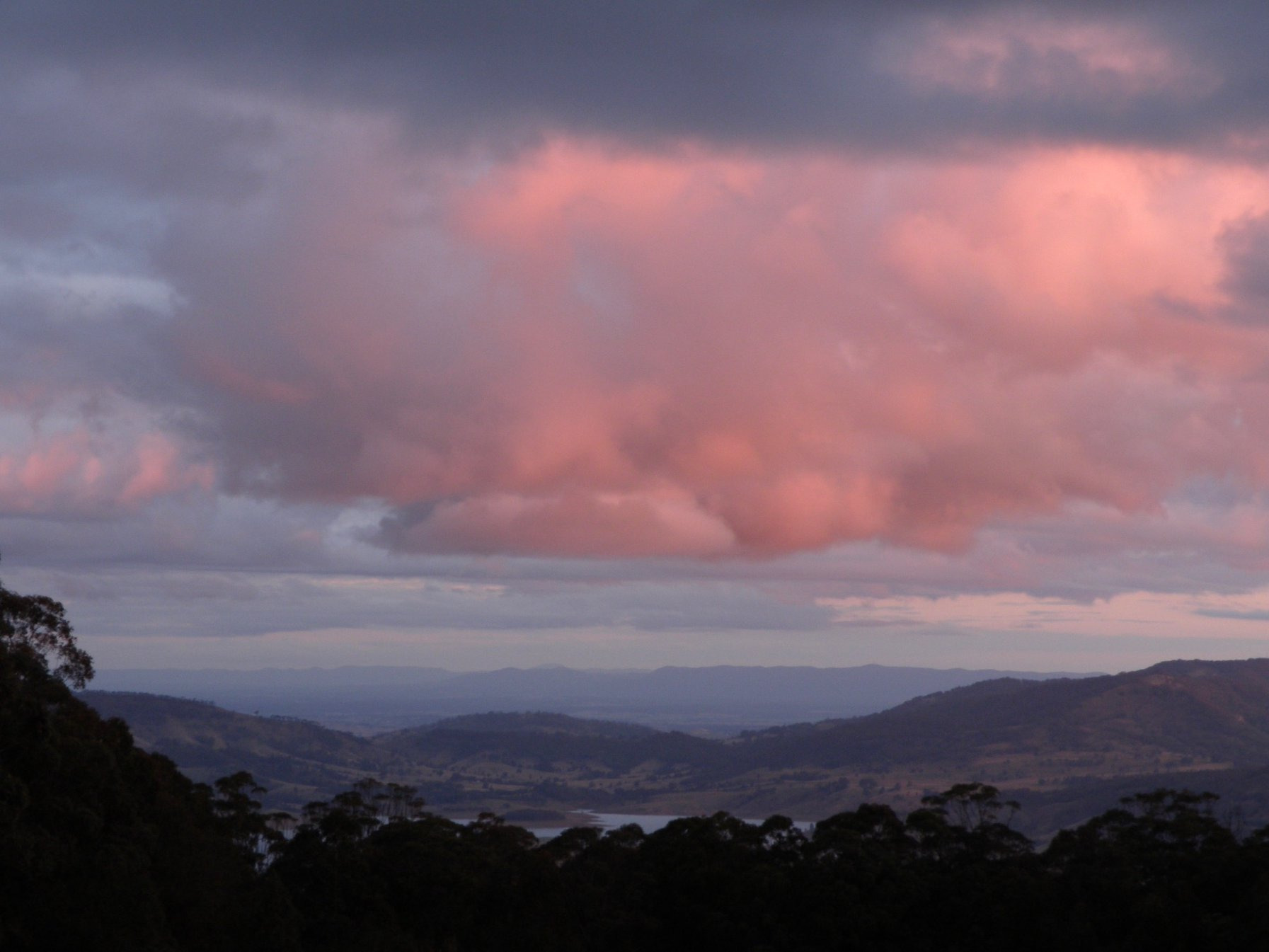 The program of this very different outdoor classical concert will be influenced by nature and the weather.
Be immersed in the late afternoon hues and sounds of the forest and the sunset over our spectacular 80km view of the Hunter Valley. Follow the musicians to different forested locations for three brackets of uplifting acoustic music.

BYO seats/rug, picnic and drinks to enjoy pre-concert. There will also be a long interval to continue your picnic.
You can come for the concert only, or stay overnight, including gorgeous glamping tents that we are offering for the first time. See the accommodation info below. If you stay overnight, you will be treated to a short extra performance on Sunday morning! You are also welcome to stay either Fri and/or Sun night - why not make a weekend of it!
At Callicoma Hill Eco-cabins & camping
529 Mt Royal Road, Mt Royal via Singleton, Hunter Valley, NSW - see www.calli.com.au
Callicoma Hill is in a mountain forest, 50km north of Singleton, 1.5 hours from Maitland, less than 2 hours from Newcastle and 2.5 hours from Sydney (Hornsby) - see the map below. The 700m altitude on the edge of the Barrington wilderness means that spring afternoons are usually calm and sunny, fading into a cool evening. It is usually 5-7 degrees cooler than Singleton.
THE PROGRAM will include:
* Vivaldi: 'Spring' from the Four Seasons; Concerto Grosso in D minor, Op 11 No 3; Lute Concerto in D major
* Haydn: 'Lark' Quartet
* Boccherini: Fandango
* Morricone: Love Theme from 'Cinema Paradiso'
* Banney: 'Taking Flight' (Concertino for guitar and strings)
* Other classical guitar solos
---------------------------------------
CONCERT TICKETS
Concert tickets are $47 - please note the special requirements for the concert listed below BEFORE you book, then click through this site to book your tickets.
Only 50 tickets are available and will sell quickly. They will NOT be available at the gate.
Because of the very quiet acoustic environment, and out of respect to the musicians, we ask that children be of high school age.
This concert will be held in accordance with applicable COVID public health restrictions and social distancing requirements.
---------------------------------------
ACCOMMODATION
Accommodation is available in our forest clearing - note that the bathroom and cooking facilities will be shared.
You may stay just Saturday night, or make a weekend of it by also staying Friday and/or Sunday nights.

- gorgeous glamping tents provided by Glamp Inn - pricing, details and booking on their website. All you need to do is turn up (with your food)….the tent will already be set up for you! This provides luxurious camping comfort, to give you an extra special experience!
- rustic bunkhouse (max 10 people) Update on Mon 14th Sept: The bunkhouse has already been booked)
$250 flat fee for the bunkhouse for Sat night and $30 per person for any other nights. BYO bedding.
We will take one booking only, and you can organise your family & friends (COVID social distancing restrictions will apply – please contact us with questions)


- bush camping (unpowered - BYO tent or camper trailer) - $15 per person per night


Our self contained eco-cabin is not available for this event
All of our accommodation is available throughout the year, and Glamp Inn can also provide glamping tents for groups through the year.
------------------------------------------------------------------------------------------------------------------------------------------------------
THE MUSICIANS
Andrew Blanch is one of Australia's most sought after guitarists. Andrew has appeared in recital throughout Australia and on tour in the USA. His recordings are regularly broadcast on ABC Classic FM, and he has collaborated with leading Australian musicians, including Daniel Rojas, Emily Grainger and Karin Schaupp.
"Andrew Blanch is that truly rare musician, who combines profound musical intelligence, curiosity and passion with a technique that allows anything. A complete artist." (Howard Penny, Head of Strings at ANAM, Member of the Chamber Orchestra of Europe).
The Gully Line String Quartet comprises three of Newcastle's rising string stars, under the direction of acclaimed violinist, conductor, composer and educator David Banney. With a repertoire that ranges from the 17th century to the present, the quartet has delighted audiences with the beauty of its sound and energy of its performances.
"David Banney is simply one of the best conductors in the country" (Roger Woodward, pianist)
We are grateful for the support of Arts Upper Hunter to present this concert.
---------------------------------------
Special requirements for the concert / conditions of your ticket (please read BEFORE you book!)
You must be capable of moving confidently and unassisted over uneven forest ground, and carrying your chair, including in the dark (pls bring a torch!)
The musicians will be playing totally acoustically, with the afternoon forest sounds as background 'accompaniment'. To appreciate this fully, we need total silence during the performance. We definitely encourage talking and picnicing before, during interval, and after the concert!

No video/audio recordings of the concert.

Be prepared for last minute program changes in response to the mountain weather conditions.
If the weather is unsuitable for a concert on Sat 24th Oct, we will advise you by email by 8pm on Thurs 22nd Oct. In this case, the concert will be rescheduled to Sat 31st Oct. If the concert is not able to go ahead on 31st Oct because of unsuitable weather, we will advise you by email by 8pm on the Thurs before. In this case, the concert will be cancelled. We will retain $15 per ticket to primarily cover the musicians' costs. We will then offer you a credit for future accommodation at Callicoma HIll (not including glamping) or provide you with a refund for the balance of the tickets.
Tickets are transferable to others, but you must let us know at least 48 hours in advance the name, phone, email and address of the new ticket holder.

Children must be of high school age.

COVID restrictions mean that we will require you to physically distance from other audience members, although households may sit together. Please also observe our other COVID restrictions particularly relating to hand sanitising and bathroom use.
Please do not attend if you have any COVID symptoms, are waiting for a COVID test result, have been in contact with a known COVID case, or if for any other reason you have been asked to isolate. We will negotiate a ticket refund if we can resell it for you.

No pets are allowed (we are a wildlife refuge), and please leave mobile phones & electronic devices off & away (there is no wi-fi anyway), and no smoking.

Please take your rubbish home (we do not have a garbage service)

As this concert is taking place in a natural forest, there are inherent risks that are outside our control, of which you should be aware, eg uneven or slippery ground surface, falling branches and insects, and you are expected to take appropriate precautions.
BYO low chair/rug, food, drinks, sensible shoes, torch, layers of clothes for the evening, insect repellant (although we normally have no mosquitos), and all camping/bunkhouse gear if staying overnight.
You will need to arrive at Callicoma HIll between 3.30 and 4pm to settle into the concert space, ready and quiet for when the first music bracket starts at approx 4.45pm (you need to arrive at Callicoma Hill between 1 and 3pm if you are staying overnight)
---------------------------------------
Contact Details - We welcome questions!
Please contact Jan & Martin at Callicoma Hill Eco-cabins, Hunter Valley
www.calli.com.au
Ph 6571 1208 (please leave a message if it rings out) or send us a message via the button below.
We would like to help you clearly understand the expectations for this special concert.
Vivaldi & friends in the forest
Click to be added to the Waitlist
Resend tickets to your email address.
Contact the event organiser.
You can review the event organiser's terms and conditions here.
Vivaldi & friends in the forest
You can review the event organiser's terms and conditions here.
If you can't find your tickets, click here.
Your email has been sent.
The organiser will be sent the details of this message.

Sorry, there appears to have been an error. Please try again later.