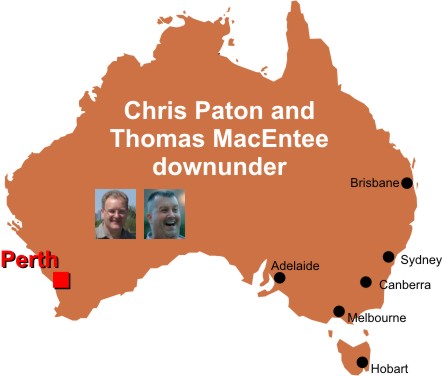 Another Unlock the Past seminar tour with visiting experts
WHAT: A full day seminar with leading Unlock the Past cruise presenters, Chris Paton (Scotland) and Thomas MacEntee (US). Features - four main presentations - supporting short presentations by local and sponsoring partners - an exhibition - special offers and hundreds of dollars worth of prizes.
WHEN: Saturday 15 February 2014, 9am - 4.30pm
VENUE:
State Library of WA
25 Francis Street, Perth Cultural Centre
Perth, Western Australia
COST:
pre-booked - by Wednesday 12 February 2014, 6pm

$39.50 - full day
$29.50 - morning only 9am to 2pm
$29.50 - afternoon only 12 noon to 4.30pm

on the day

$60 - full day
$40 - half day
PAYMENT:
individuals

online bookings - Visa or Mastercard only
phone or mail - cheque, Visa, Mastercard
phone or mail - EFT
- Account Name: Gould Genealogy
- BSB: 015-621
- Account Number: 1980 23389

Societies taking bookings for members - ask for special code
Note: a 30 cent booking fee is added for each person during check out.
CONTACT DETAILS: Alan Phillips alan@unlockthepast.com.au (08) 8263 2055