Unlock the Past cruises info day in WA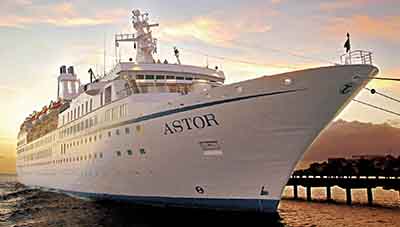 A FREE Unlock the Past cruises information session and ship tour aboard Cruise and Maritime Voyages' Astor, the newest cruise ship to come to Australia.
Are you booked for 4th cruise in February 2014? Come and meet other Western Australians who will be on the 4th cruise - and learn a bit more what is in store.

Are you interested in the 5th cruise (British Isles) or 7th cruise (Southern WA) in January 2015? Come for a tour of the ship we will use - and learn a bit more what is in store.

Want a preview of our 6th (Eastern Australia) and 8th (Baltic) cruises. We can tell you a bit more about these too.

And if there is interest and time we can tell you about some of the cruises being considered beyond these.
WHEN: Thursday 12 December 2013
10.45am - assemble at Fremantle Passenger Terminal (details to be advised)
11.00am - board as a group to begin tour of the Astor - cabins, meeting and dining areas etc
11.30am - meet in conference centre for the Unlock the Past cruises information session
12.30pm - those not staying to the optional lunch to leave the ship
12.30pm - lunch in Toscana specialty restaurant - option for those who would like stay a little linger and sample the Astor's food. This will be at a cost $25.

Numbers for the lunch will be limited to the first 30 booked

.
COST
FREE for the tour and information session - limited places on the tour, so book early
Optional lunch - $25. Lunch places are even more limited, so be sure to book even earlier to secure a place. This needs to be paid as part of this booking. Online payment option are Visa or mastercard. Alternatively you can phone your booking and
PAYMENT:
online bookings - Visa or Mastercard only
phone or mail - cheque, Visa, Mastercard
phone or mail - EFT
- Account Name: Gould Genealogy
- BSB: 015-621
- Account Number: 1980 23389
Note: a 30 cent booking fee is added for each person during check out online.
CLEARANCE TO BOARD - this tour requires the same level of security to join as if you were boarding to cruise. You will need to
supply in advance
with this booking:
- name
- contact details
- date and place of birth and nationality
- ID - e.g. drivers licence or passport
BOOKING TWO OR MORE PEOPLE - Because of the need supply full address and other basic details for security,
you will need to do a separate booking for each person
. If you don't wish to do this online (or are not paying by Visa or Mastercard) you can phone this through to us - see below.
TO BOARD - you will need to show the ID you registered with and leave this with security at/near the point of boarding for the duration of your time on board.
BOOKING DEADLINE - 9pm on Thursday 5 December 2013
Further advice (parking, payment for lunch etc) and confirmation of arrangements will be sent to all who pre-book
Thanks to Cruise and Maritime Voyages this is a unique and special opportunity, usually only available to travel agents.
Further information from Alan Phillips alan@unlockthepast.com.au (08) 8263 2055
Click here for more about the Astor
This event is currently closed and no contact details are available