Black hole behaving badly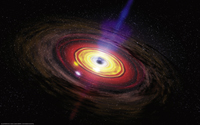 APOLOGIES - THIS LECTURE HAS BOOKED OUT
A dormant volcano — a supermassive black hole — lies at the heart of our Galaxy. Four million times the mass of our Sun, it has probably been growing for 13 billion years. Black holes "feed" on ripped-up stars. And when they feed, they also erupt — violently.
Until recently, we thought our Galaxy's black hole had been quiet for a very long time. But there is exciting new evidence that the centre of our Galaxy was erupting just two million years ago, when early hominids walked the Earth. The echo of this amazing event can be seen today, imprinted in the night sky.
An artist's conception of a black hole is shown generating a jet. Two million years ago the supermassive black hole at the centre of our Galaxy was 100 million times more powerful than it is today. Credit: NASA/Dana Berry/SkyWorks Digital.
About the Speaker
Professor Joss Bland-Hawthorn (Sydney Institute for Astronomy, University of Sydney) is an astrophysicist who has worked in the UK, the USA and Australia. He specializes in research on galaxies.
With Professor Ken Freeman (ANU), he developed the field of "Galactic archeology" — the process of uncovering the details of the history of our Milky Way Galaxy.
Professor Bland-Hawthorn is also an expert on developing instrumentation for astronomy, and is helping to pioneer the new field of astrophotonics — using photonic devices in astronomy.
When:
6 pm for a 6.30 pm start on Thu 5 Dec 2013
Where:
CSIRO Discovery Centre
North Science Road
Acton, ACT 2601
map
More Information:


CSIRO Discovery Centre
Ph: (02) 6246 4646
Email: info.discovery@csiro.au
This event is currently closed and no contact details are available