Zara as Zara in "Zara" (with Troy!)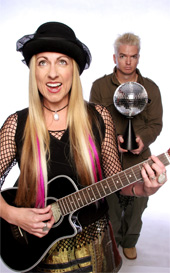 Zara as Zara in "Zara" (with Troy!) - A One Woman Show
Melbourne International Comedy Festival 2011
The 2011 season of this show at the Melbourne International Comedy Festival has now closed. If you'd like information about future performances by Zara & Troy, please email info@3dcomedy.com.au.
She's back from the dead, literally! (... but she's not the Messiah... she's just a very naughty girl!)
Zara has lunched with Sir Richard Branson, had a D&M with Heath Ledger, chatted to Julia Gillard, eaten sushi with John Mayer, talked sex with David Duchovny, turned the tables on Andrew Denton, played a frog on national TV ... and spent time in a psychiatric ward (alright, three!)... all of this is true.
After five years topping FM radio, along with her husband, Troy, Zara has been described as 'Ellen meets Robin Williams' (but those people were drunk!) - so come and see for yourself. Zara is living proof that what doesn't kill you ... just makes you funnier!
Ferociously funny and hilariously heartfelt, comedy Diva Zara... celebrates the insanity of everyday life and declares euphorically that, 'nuts is the new normal!'
'Hilariously uncouth …' – The West Australian
'… entertaining and affirming' – The Age
Three Degrees (Upstairs, Front Bar)
QV Square, Cnr Swanston & Lonsdale Sts, Melbourne
ONLINE TICKET SALES CLOSE AT 1.00pm ON THE DAY OF THE SHOW.
DOOR SALES WILL BE AVAILABLE IF THE SHOW HASN'T SOLD OUT!
SHOW YOUR TICKET AND SAVE!
Enjoy a meal downstairs at Three Degrees before or after the show! Show your ticket for a 10% discount on food, and drink specials at the bar.
FOR MORE INFO ABOUT THIS SHOW OR ANY OF THE SHOWS AT THREE DEGREES:
- visit the Comedy @ Three Degrees website, www.3dcomedy.com.au
- phone the Three Degrees Comedy Festival hotline on 0417 65 15 38
This event is currently closed and no contact details are available