Tim Ferguson's Narrative Comedy (Perth)
Wit Large in association with the Australian Writers' Guild presents
Tim Ferguson's Narrative Comedy Writing Masterclass
You may have watched a lot of comedy. But have you really looked at it?
After four long years, Tim Ferguson is bringing his narrative comedy masterclass back to the wild west.
This intensive two-day course offers processes and insights necessary for professional screenwriters to expand their skills base into narrative comedy for television and film.
The course operates by way of lectures, script analysis and the viewing of narrative comedies with some course time will also be devoted to exercises and workshopping.
Attendees will be shown how to construct a comedy film or TV show, making choices in terms of theme, sub-genre, character, structure, morality, style and tone.
The course focuses upon the principles of jokes and narrative humour. These principles are ancient, fixed and universally applied through all good comedies.
Participants are presented with processes and principles for devising comic conflict, metaphors, juxtapositions, reversals, story structures, knowledge differentials, pathos, subtext and the rhythms of comic dialogue.
The course concludes with tips for formulating treatments or series bibles and pitching concepts to the film or television markets.
***Please note: This course is held over two days (31 May and 1 June). The booking system will only show the start date (31 May) but you are booking in for a two day course.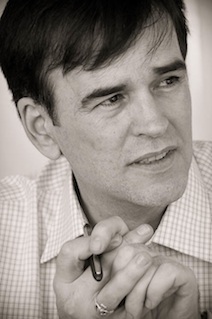 About Tim Ferguson
Tim Ferguson is a comedian, producer and screenwriter. Tim wrote the bestselling comedy writing manual: The Cheeky Monkey – Writing Narrative Comedy (Currency Press).
He has made dozens of comedy and entertainment TV shows.
One of the world's leading narrative comedy teachers, Tim lectures in comedy and screenwriting at RMIT University, AFTRS, VCA, Sydney Uni & Open Channel Media. He works as a comedy script consultant and editor for production companies in Australia and Britain.
Tim's live show Carry A Big Stick is a sell-out success touring now and the book was published in September 2013 through Hachette.
This course is held over two days (31 May & 1 June), from 10am to 5pm at the Perth offices of the Australian Writers' Guild.
DISCLAIMER: This course, which aims to provide insight and techniques for the writing of comedy means that some of the material covered is of an adult nature and may include offensive content. Wit Large and Tim Ferguson therefore recommend that this course is only suitable for those over the age of 18.
If you have any questions, please email carrie@witlarge.com.au
This event is currently closed and no contact details are available