The documentary "Blazing A New Trail"


The Japanese documentary
"Blazing A New Trail"
(English Subtitle)
http://blazinganewtrailmel.wix.com/kakko
Date : 14th June Saturday 2014
Venue : Glen Eira Council Theatrette
416-428 Glen Eira Rd, Caulfield Vic 3162
Open Door 9:30 am
Movie 10:00 - 11:30
Break 11:30 - 11:45
Lecture 11:45 - 13:00
WHAT:
Basic information of the film Title : Blazing A New Trail
- towards the day when miracles become commonplace -
Director : Yasuko Iwasaki
Main Cast : Toshiya Miyata, Katsuko Yamamoto, Katsuko Kamiya, Yasuyuki Shibata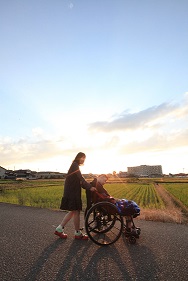 The documentary "Blazing A New Trail"
Blazing a New Trail is an incredibly moving documentary from Japan, here in Melbourne for a unique screening in Caulfield. It is about the extraordinary friendship between two colleagues from a Japanese school for children with disability. When Mr Toshiya Miyata experienced a massive cerebral , his doctor said that he would never regain consciousness and his body will remain paralyzed for life. However, Mr Miyata's colleague Ms. Katsuko Yamamoto never gave up hope. For many years, she has worked tirelessly not only to help rehabilitate him, but also to build a worldwide circle of support around him through an online blog called Heart of Miracle.This is your chance to watch the movie about their story and also hear a lecture by Ms Yamamoto, who says that their wish is " to make a big world which celebrate a life."The movie is being screened by volunteers on a not-for-profit basis and any proceeds will be used towards event and travel costs.
Profile of Katsuko Yamamoto
She was born in Kanazawa in 1957. After graduating from the Chemistry Department, Faculty of Science, University of Toyama, she has been working at special needs schools in Ishikawa Prefecture.The message, in her books and talks, is filled with love and affection, and is spreading through out Japan.It touched not only children's hearts but also adults who had been closing their hearts and minds. It also worked wonders to these people who have opened their hearts.The documentary film "The Miracle of the Gifted Quarter – Life's Truth Revealed -" is the film about her activities. This film has been shown by volunteers more than 1500 times including 17 different countries so far.She is creating warm relationships with readers of the mail magazine called "Miyapu Diary – the Bridge Between Our Hearts" which is sent to the readers every day.
Additional Movie Show (movie only) 3:00-4:30pm
tickets only avaiable at the door
$12

現在、このWEBサイトでは数量限定でチケット販売しております。もし、売り切れの場合は下記のコンタクト先にお問い合わせくださいませ。
CONTACT DETAILS: Koto Holland 0425258373 blazinganewtrailmel@gmail.com
※Seating is First come First serve on the day.
当日、自由席になりますのでご了承くださいませ。
This event is currently closed and no contact details are available