Norfolk Island conference
Unlock the Past Norfolk Island conference
WHAT:
A genealogy/history conference on Norfolk Island in October 2014 – with Shauna Hicks, Australia's most sought-after genealogy/history presenter and Cathy Dunn, leading Norfolk Island and convict specialist. This is planned as a tie in with the
6th Unlock the Past cruise
– three nights 23-26 October 2014 – but may be done on its own independently of the cruise.
a full two day conference (or three-part days) – with 12 to 15 sessions offered
two leading historians/genealogists
Research Help Zone sessions for expert one-on-one or small group advice
complete freedom to do Norfolk Island tourist things for the rest of the day and evening – or simply interact informally with other like-minded people
special offers on Unlock the Past guidebooks in conference bookshop
over $1000 worth of prizes
Date
Wednesday and Thursday/Friday, 29 and 30/31 October 2014
For those doing the 6th cruise

AU$150 per person
AU$200 for two family members (both on the cruise) **

Norfolk Island conference only

AU$250 per person
AU$400 for two family members**

Booking – booking form to come in the next few days
** husband/wife, two siblings, parent/adult child. Both family members are entitled to attend any or all of the conference sessions and any exclusive conference group function extras (at cost). All are in the draw for the prizes will be offered at a conference. Children under 17 may attend any of the conference sessions and any exclusive conference group function extras, but will not be in the prize draw.
Note that all travel, accommodation, meals, tour costs and admission fees are extras, with flexibility for you to choose as much or little as you want.
PAYMENT:
individuals

online bookings - Visa or Mastercard only
phone or mail - cheque, Visa, Mastercard
phone or mail - EFT
- Account Name: Gould Genealogy
- BSB: 015-621
- Account Number: 1980 23389

Note: a 30 cent booking fee is added for each person during check out.
CONTACT DETAILS: Alan Phillips alan@unlockthepast.com.au (08) 8263 2055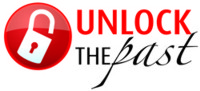 This event is currently closed and no contact details are available