Koné Express – 9 Piece Afro/Trance Band
Koné Express – 9 Piece Afro/Trance Band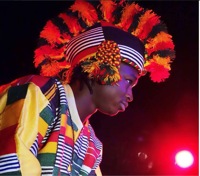 Friday 9 May: Featuring Malian Balafon virtuoso and Djembefola, Bassidi Koné and special guests Bortier Okoe and Shabba Annan
Traveling from his culturally rich and vibrant homeland of Mali (West Africa), following in the traditions of great artists before him such as Salif Keita. Oumou Sangara, Toumani Diabate and Rokia Troare, virtuoso drummer and balafonist Bassidi Koné now brings his shining spirit and awe inspiring musical expression to Australia.
Joining forces with a band of energised, talented local musicians, Bassidi will be running percussion workshops & performing live with his Australian based group Koné Express
"Bassidi wields through mastery of the djembe, balafon and the songs of tradition. It results in performances that exude freedom and delight audiences all over the world" - Mateja Miljacki – (Producer)
A fearless and foot stomping afro-jazz, latin and reggae set, the young Koné weaves entrancing melodies on an enormous pentatonic marimba that originates from the Bobo tribes of Burkina Faso. Add to this a powerful horn section, dub keys, sublime guitar riffs and a world of tasty counter rhythmic grooves and you'll find yourself embracing an uncontrollable urge to dance!
Performing with Koné Express in Australia 2014 are: Bassidi Koné, Simon Lewis, Matt Rodd, Roland Cox, Tom Williams, Mat Baulch, Chris Toro, Nick Adams, Bortier Okoe and Shabba
Listen to Koné Express at: https://soundcloud.com/koneexpress
Supported by Miriam Lieberman
Miriam is a singer songwriter who has travelled the world in search of songs, instruments and adventure. The result is "a rich cross cultural hybrid" of music that's both uplifting in song and infectious in rhythm. She blends her 21 fishing line string African harp known as the kora, percussive styled guitar and soulful vocals creating music that is both lyrical and uplifting.
Bookings close at 4pm on the day. Tickets may be purchased at the door subject to availability. No refunds or exchanges
DOORS OPEN AT 6pm for cocktail hour, dining and best seating. (90% seated, 10% standing)
Two sets until 1130pm (approximate)

505 reserves the right to sell unredeemed tickets after show time
VENUE:
Venue 505
280 Cleveland Street
Surry Hills
Sydney, NSW 2010
CONTACT DETAILS: c20dog@me.com
This event is currently closed and no contact details are available