The Tango Saloon 'Don't Close Your Eyes'
The Tango Saloon 'Don't Close Your Eyes'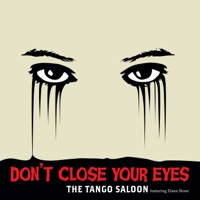 Thursday 5 June: Romero Records is very happy to announce the brand new single for The Tango Saloon, 'Don't Close Your Eyes' featuring vocalist Elana Stone.

Since the beginning, The Tango Saloon have been a band of quiet achievers, producing three albums of brooding spaghetti western scores, post prog rock epics, a smattering of actual tango, and some beautiful vocal performances from the likes of Jane Sheldon, Ilan Kidron and Mike Patton.
The self-titled debut was released by Mike Patton's Ipecac label in 2006, followed by Transylvania (2008) and Shadows & Fog (2012).
'Don't Close Your Eyes' is the second single to be released ahead of the band's forthcoming fourth album, following on from last year's 'In Black And White', and its stunning video clip: http://youtu.be/ayWkhdrHk6o
The Tango Saloon has had an illustrious career thus far, appearing on Spicks & Specks in 2011, supporting Peeping Tom's 2007 Australian tour, as well as sharing the stage with Mondo Cane at The Domain for 2012's Sydney Festival.
"This is a soundscape to rattle the bones of the dead" - Pedro Manoy, Drum Media.
The sounds of Mr Bamboo could be described as gypsy swing meets Tom Waits, Devo, Zappa and Ween, blended into an awe-inspiring daiquiri to form this amusing skank/jazz/pop trio that is sweet, fulfilling, drunk and eventually sour.

Made up of vocals, violin, resonator bass, loops, and guitar Mr Bamboo produce a humorous sound that combines acoustic instruments with lo-fi electronics. Mr Bamboo explores complex human traits from paranoia to relationships to cleanliness to a physical expression of desire and the taboos that surround such delicate issues, all without having to resort to serious thought.

Mr Bamboo will either make you laugh, cry, contemplate or drunk.
Bookings close at 4pm on the day. Tickets may be purchased at the door subject to availability. No refunds or exchanges
DOORS OPEN AT 6pm for cocktail hour, dining and best seating. (90% seated, 10% standing)
Two sets until 1130pm (approximate)
505 reserves the right to sell unredeemed tickets after show time
VENUE:
Venue 505
280 Cleveland Street
Surry Hills
Sydney, NSW 2010
CONTACT DETAILS: c20dog@me.com
This event is currently closed and no contact details are available