MR OTT + Slowpoke Rodriguez
MR OTT + Slowpoke Rodriguez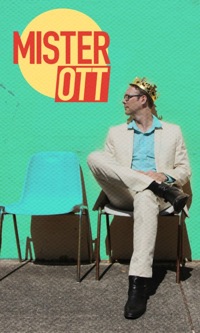 Saturday 28 June: Inspired by Ethiopian artist Mulatu Astatke and from touring to Ethiopia with Dereb the Ambassador, saxophonist Matthew Ottignon has assembled Ellen Kirkwood, Daniel Pliner, Ben Panucci, Eden Ottignon and Dan Kennedy together to form Mister Ott. Special guests on the night will be Peter Farrar and a percussionist.
Mister Ott have just returned from performances in Paris and Amsterdam, and have just completed a fresh new recording. Expect eastern mellismatic scales and hypnotic trancelike rhythms to go head to head with seriously solid funk grooves.
If the last time the band played at 505 is anything to go by it will be a great night with a full dance floor.
"The mysterious burst of sonic energy that is Mister OTT is infectious." Megaphone Oz
"It's a blast, from start to finish" Sydney Stage
"Whenever you hear Matthew Ottignon play, you know you're going to get the very best in sound experience, so it was not a surprise to hear the pulsing beauty of rich fat sound that filled the room " Lisa Thatcher
"Mister OTT are clearly influenced by 50s and 60s soul and jazz, but they blend this perfectly with the traditional, as well as much improvisation to create a twenty-first century sound." Sydney Arts Guide
www.soundcloud.com/matthew-ottignon/take-it-higher
Official Mister Ott video for Mattaraja
SLOWPOKE RODRIGUEZ
Named in honour of the slowest mouse in all of Mexico, Slowpoke Rodriguez strive earnestly to take it easy at all costs. Echoing the textures of Bill Frisell and Menahan Street Band, with the odd imaginary late-80s South German police drama theme music thrown in, the Sydney six piece dive head-on into their business with definitely no particular ambition whatsoever.
Carlos Adura - Drums, Ken Allars - Trumpet, Sandro Bueno - Percussion, Pat Harris - Bass, Daniel Pliner - Piano, Simon Relf - Guitar
Bookings close at 4pm on the day. Tickets may be purchased at the door subject to availability. No refunds or exchanges
DOORS OPEN AT 6pm
for cocktail hour, dining and best seating. (90% seated, 10% standing)
Two sets until 1130pm (approximate)
505 reserves the right to sell unredeemed tickets after show time
VENUE:
Venue 505
280 Cleveland Street
Surry Hills
Sydney, NSW 2010
CONTACT DETAILS: c20dog@me.com
This event is currently closed and no contact details are available