Guy Strazz Quartet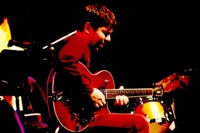 Wednesday 2 July: 'Eastern Blues and Things' is the life work of guitarist Guy Strazz. The Quartet features some scintillating musicianship and compositions best titled World Beat Jazz.

"The synergy of the quartet is tight, and the result is undeniably a jazz sound with world influences as opposed to world styled acoustic guitar music. It is this achievement that makes Eastern Blues such a special release, and credit must go to the quartet who carefully manage not to get lost in these world genres but rather learn and use techniques from them with the utmost subtlety and precision, with the result being a superbly produced piece of modern intercultural jazz music". (2-RES)
"Strazz's "Silk Road" is once again recorded and must be considered one of the most attractive jazz guitar melodies this country has produced" (Peter Wokner Jazz & Beyond).
"The gamaka ornamentation created by Strazz's fretwork blends beautifully with a blues figure in 'Mingus Ashes In The Ganges', a track also distinguished by a Charles Mingus-like solo from bassman Hugh Fraser. The leader's Indian styled slides, deflections and stresses are evident elsewhere on an absorbing set" (Tony Hillier, Rhythms)
Guy Strazz: electro-acoustic guitars
Aaron Flower: electric guitar
Hugh Fraser: bass
Toby Hall: drums
Bookings close at 4pm on the day. Tickets may be purchased at the door subject to availability. No refunds or exchanges
DOORS OPEN AT 6pm for cocktail hour, dining and best seating. (90% seated, 10% standing)
Two sets until 1130pm (approximate)
505 reserves the right to sell unredeemed tickets after show time
VENUE:
Venue 505
280 Cleveland Street
Surry Hills
Sydney, NSW 2010
CONTACT DETAILS: c20dog@me.com
This event is currently closed and no contact details are available