Ologism - Live in Melbourne
Ologism - Live in Melbourne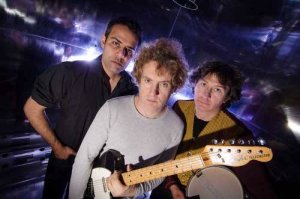 Music that melts in your mind . . . science as nature didn't intend
Ologism has exposed air showers, looked for lost bees and revealed the cyber nose. They have fallen in love with spuds, been angry with ants and searched for the island of stability, and they're not done yet.
DATE AND TIME: Wednesday 9th July, 7:30pm
VENUE:
Kaleide Theatre
Building 8, RMIT University
360 Swanston Street
Melbourne, Vic 3000
TICKETS: $10pp
Ologism is Australia's favourite science rock show, featuring original rock music and science demonstrations live on stage.
"A band that plays a great show . . ." FasterLouder.com
" . . . unique combination of emerging scientific knowledge with quirky experiments and catchy rock beats makes for an engaging show . . . ★★★★★ " TalkFringe.com
CONTACT DETAILS: Carly Siebentritt
(03) 9252 6472
carly.siebentritt@csiro.au
Please note: Wheelchair access is possible but complicated. Please phone Carly for directions before Wednesday 9th July. (03) 9252 6472
This event is currently closed and no contact details are available