John Richards: Beyond the Box
John Richards: Beyond the Box
If you've been stewing over a brilliant idea but want to know how to make it a real thing, this is the course for you.
Whether you're new performer or a seasoned writer, podcasting is one of the most effective ways to broadcast on a global scale. You don't a big production company. You're not beholden to ratings, radio managers or revenue streams. If you have the know-how, and even the most basic equipment and resources, it's possible to produce great and engaging content and find your audience.

During this two day intensive workshop, John will explain the secrets of developing program ideas and formats, who to get on your team, how to effectively interview people, and how to squeeze the most out of your technology.
About John Richards
John produced and presented the highly successful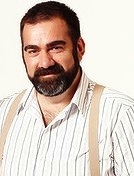 podcasts Boxcutters and Splendid Chaps, which topped the iTunes Film & TV podcast chart in both Australia and the UK.
He has also produced and presented programs for 3RRR and Joy 94.9, and created content for television and radio including ABC1, JJJ, 3LO and BBC Radio Five Live.
Splendid Chaps was called "part intellectual panel discussion and part nerdy Tonight Show" by The Age, The Sydney Morning Herald said it "combines analysis, enthusiasm and irreverence", and Time Out declared it "a smash hit".
DATES: This is a two day course which runs 10am - 4.30pm on 11 & 12 October.
VENUE: Australian Writers' Guild (Northbridge, Perth)
For further enquiries, please contact carrie@witlarge.com.au

This event is currently closed and no contact details are available