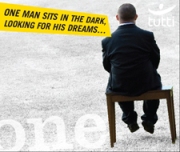 One man sits in the dark, looking for his dreams…
One is an exploration of what it means to be alone.
Sometimes One is too many. Sometimes One is not enough.
One is the sum of all parts.
Tutti presents One, a premiere theatre performance, featuring Joel Hartgen, Trish Ferguson, Jane Hewitt, Alistair Brasted and Jackie Saunders. With a stellar creative team, led by director, Daisy Brown (Ruby Bruise, Gorge, Mutzenball), Wendy Todd: Designer (Skip Miller's Hit Songs, The Tragical Life of Cheeseboy), Mario Spate: Composer (Ruby Bruise, Fastest Boy in the World) and Juha Vanhakartano: Lighting Designer, One is sure to provoke and surprise audiences.
Artistic Director of Tutti, Pat Rix says, "One has been developed over several years and is a quirky and quizzical culmination of each performers' cost benefit analysis of living alone. We are absolutely thrilled to be sharing One with an audience at last.
VENUE: The Queens Theatre, Playhouse Lane, Adelaide

CONTACT DETAILS: Jackie SmithTutti Ensemble PO Box 115 Hove SA 5048 Ph 8422 6511 jackie.smith@tutti.org.au