LIVING MATTERS


Elemental Yoga and the layers of Being
January 2018, 5 week yogic exploration of self and the nature of reality.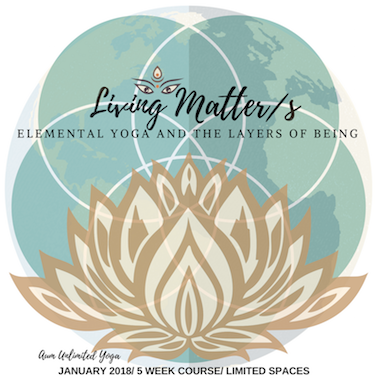 If you want to create harmony in your life, it helps to understand the building blocks of nature. Each week we will work with an element, (earth, water, fire, air and space) and look at how it relates to the yogic philosophy of the koshas (layers of being). Combining relaxation, movement, breathing and meditation to explore the elements within and how they can assist you to expereince and access these different layers of self. 
 Classes will be accesable to all offering different levels of practises offered to suit individual needs from beginners to advanced students. Working with specific Asana (postures) , Mudra (gestures) , Pranayama (breathing) and Mantras (thoughts & sound), we will work to harmonise the sublte energies and create internal balance of body mind and soul.
5 Wednesdays in Jan 3rd/10th/17th/24th/31st
Early session 5.30-7pm or Late session 7.30-9pm
Location
Shanti Meera
Aum Unlimited Yoga, Unit 6C 180-186 Argyle St , Camden, NSW 2570
This event is currently closed and no contact details are available