Event Waitlist
Your name has been added to the wait list for this event. The event organiser will contact you through your email address once there are available seats / slots.
Saturday 28th July 1-3pm - Melbourne CBD
If you've never done one, an Escape Room is a must! Originating in Budapest, escape rooms have become popular world wide and are a great way to meet new friends and have some fun. They involve figuring your way out of a themed room, by solving puzzles & clues and using hidden objects/articles in the room.
How does it work? 
The Duel Adventure format allows teams to compete against each other in a cat-and-mouse style game. This way Team A has to escape while Team B has to try to catch them before they are able to escape. After 30 minutes the roles are reversed. There is a 10-15 minute break to reset the game. 
Do I need to sign-up as a group?
You do not need to have a team at the time of booking, you can sign-up as an individual or book tickets for you and a friend and you will be incorporated into a team. At the point of booking you can chose which themed room you want to participate in. The black queen is 5 vs 5 and Gaol Break is 7 vs 7.
Can I bring a friend who isn't a postgraduate student?
Yes. You can book tickets for partners/friends who are not Monash Postgraduates at the non-subsidised price. Many of our trips are open to families including children (such as lake mountain), this one however is only open to adults. To view our other available trips, visit out mpa
social events page
Ticket Prices
The Monash Postgraduate Association subsidises all of its trips for postgraduate students. If you are Monash Postgraduate you can purchase a ticket for $22 (rrp $32-34).  If you wish to book a ticket for a non-monash-postgraduate then the ticket price for them is $32. 
Room Theme Options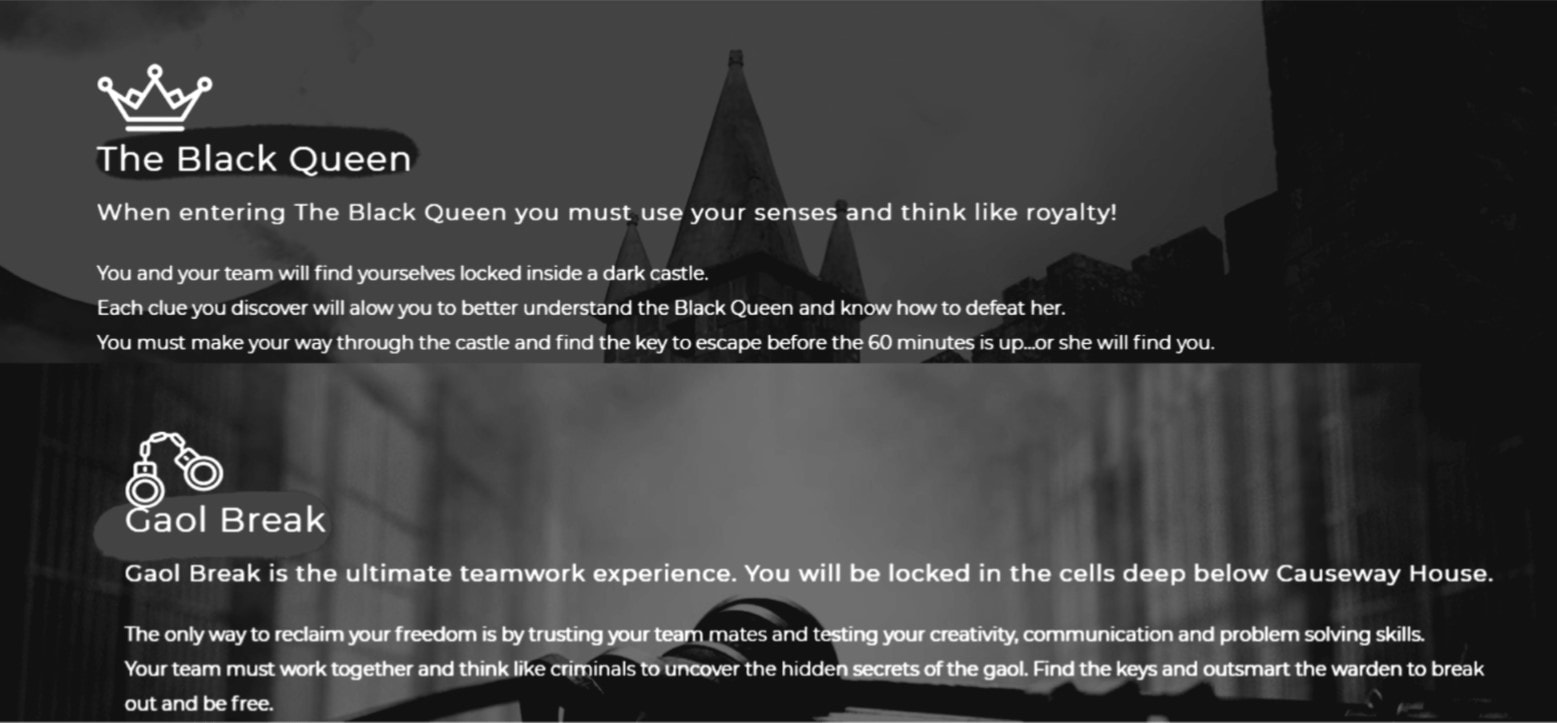 To be completed prior to trip:
The Monash Postgraduate Association is committed to follow the guidelines of the Respect Now, Always campaign, an initiative of Australian Universities, established in response to student campaigns regarding personal safety whilst attending University.. As part of this campaign, the MPA promises to ensure that all participants in our off campus events complete the following modules:
As these modules require an authcate account to access, we will be able to see on realtime reporting once the modules have been completed. Failure to complete the required modules, may result in you not being able to attend the trip and being at risk of losing your money." which you can copy from the other events pages.
If you've got any questions, please email mpa-events@monash.edu.
Location
Basement, Causeway House,
306 Little Collins Street,, Melbourne CBD, VIC
This event is currently closed and no contact details are available