Welcome to SNAC Women 2018 – an annual day conference for women across our parish! 
It's a fantastic day filled with fellowship and encouragement as we sit under God's word together and grow in our love for one another.
The theme for this year is "Our Hope in Perseverance" with talks from Hebrews 12. There will be a chance to hear from different women at SNAC (including our missionaries), attend workshops*, sing together and eat amazing food. Sign up today!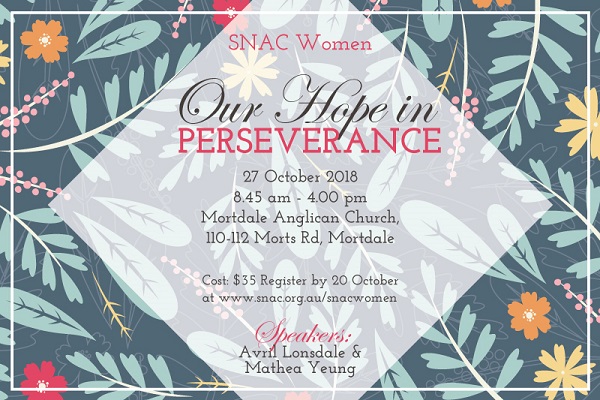 *Select your workshop preference when you book:
Persevering in godliness: What does it look like to persevere in Bible reading, prayer and evangelism? Through different ages and stages of life, what things can help Christian women persevere in godliness?
Persevering in suffering: Why do Christians suffer? Where is God in our suffering? Should I expect suffering? How do I prepare for it? How can I suffer well and persevere as a Christian through suffering?
Persevering in loving others: Where does our motivation for loving others come from? What does the Bible say about how we are to love others? How do we persevere at loving others? What opportunities are there for loving others? 
Persevering in serving together: What is our motivation for serving together? How do we persevere in serving others? What will help us have the right heart and mind to be a servant? What opportunities are there to serve? How do we decide what opportunities to take?
Contact: Jen Semple (jenbo87@gmail.com / 0433 171 796) or your congregation representative
This event is currently closed and no contact details are available