Pop Up Garlic Farmer Program 2019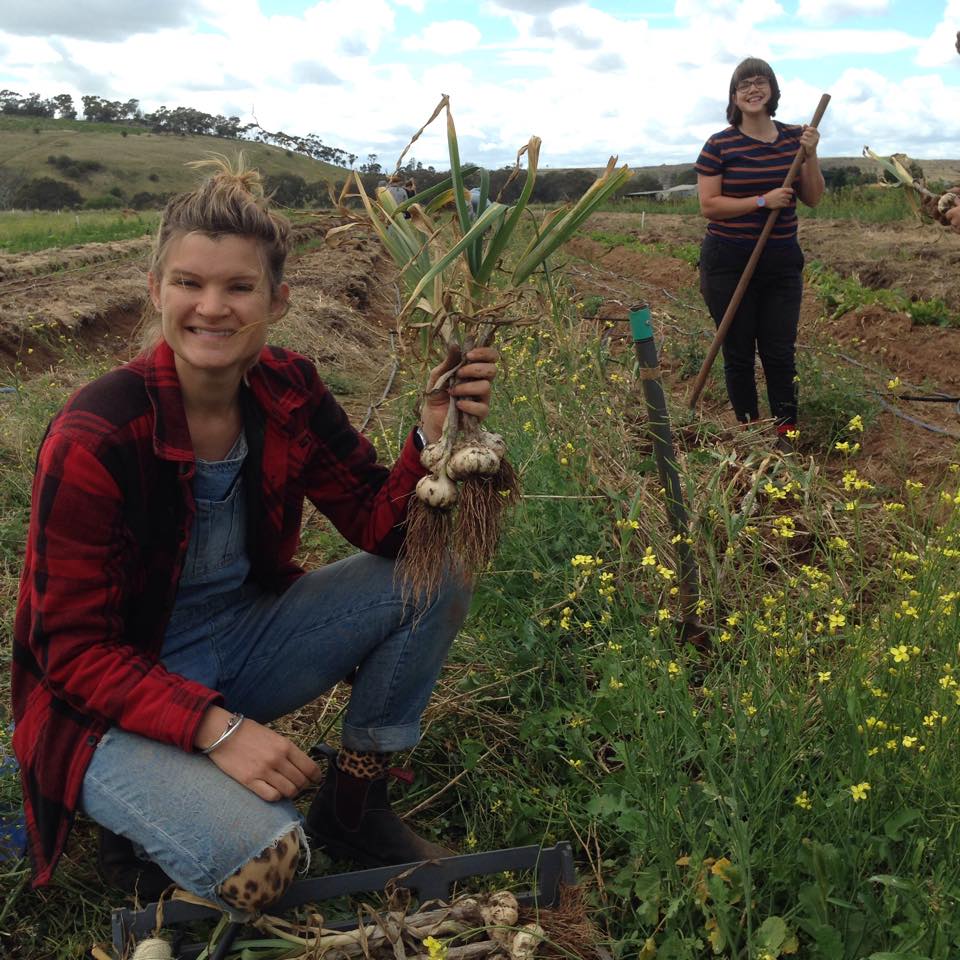 Farmer Incubator's Pop Up Garlic Farmers (PUGF) Program offers aspiring farmers the opportunity to enter the world of agriculture with access to land, resources and mentorship in order to experience growing a crop on a larger scale than their backyard.
From March to November 2019 as a Pop Up Garlic Farmer you can take a crop of garlic right through from seed to harvest and market with a load of learning experiences and farm tours across the year to teach you everything you'll need to know. Throughout the program, you'll meet experienced farmers, visit no less than 3 established small-scale farms, and hear from experts across a diverse range of fields. Each site will have a FI Site Manager to support you each step of the way and at least 3 other fellow Pop Up Garlic Farmers to share the experience.
!!NEW TO THE PROGRAM!! is our workshop on Co-farming and Accessing Land for Your Future Farm and a simple tool for planning your Crop Enterprise Budget...We sold out in 2017 so get in quick!
PROGRAM DETAILS
The PUGF program is a great way to try farming in a risk free and supported environment while building skills, knowledge and networks as you go.  Over the 9 months you will work at your selected site with other PUG Farmers to cultivate and grow your garlic from seed to market using organic farming practices. While we do expect a basic level of food growing knowledge and 100% commitment to the program along with a willingness to communicate and work with fellow farmers - this program is perfect in that, with a bit of planning, it can fit around work and study commitments.
PUG Farmers will be expected to spend at least 1 day a month at tending to their crop in addition to taking part in the workshops outlined below.  
The program cost ($950) includes the following:
- 8  x workshops & farm tours and all learning materials
- your garlic seed to plant (approx 500 seeds)
- land use & access for 10 months
- water and irrigation equipment
- mulch & compost inputs at the outset of the program
- a copy of Penny Woodward's 'Garlic' book (also known as the Garlic Bible!)
- Crop Enterprise Budgeting planner
- access to tools
- on site insurance incase of any accidents
- 4 x lunches provided, and tea/coffee available at every workshop
- new friendships/community connections/business partnership opportunities!
- your own crop of organically grown garlic at the end of the year to sell, give away or simply keep for yourself :)
Workshops
It is important to check whether you are available for the following dates. Here is the list of fantastic PUGF program workshops you can be a part of as a Pop Up Garlic Farmer - dates and content may be subject to minor changes but will be confirmed by Jan 2019.
Workshop 1 – Introductions & Planning
Date: Saturday 2nd March
Time: 1:45pm – 5:30pm.

- Introduction to Farmer Incubator, meeting our site facilitators, overview of the course, notes handout, site descriptions & meeting your fellow garlic farmers.
- Group decision-making & effective teamwork with Tom from Polykala (Adaptive Leadership Training experts).
- Basic crop enterprise budgeting & planning

Workshop 2 - Soils & Agronomy
Date: Saturday 23th March
Time: 9:45am - 3pm
Location: PUGF Farm Site (TBC)
Facilitator: Agronomist
Extra notes: lunch provided, sturdy enclosed footwear required.

- Introduction to soils; learn the basics of soil chemistry, biology and structure from a professional Agronomist.
- Discussion of soil amendments and appropriate soil prep and maintenance.
- Please bring…soil from your site ;-)
 
Workshop 3 - Planting & Cultivating
Date: Saturday 13th April
Time: 1:45pm – 5pm

- Safe and effective use of farm tools & equipment, as well as proper maintenance.
- Bed preparation, and sowing & caring for the crop.
 
Workshop 4 – Farm Tour
Date: Saturday 18 May
Time: 10:15 am – 3pm

- Farmer Paul will take us on a tour of his farm to show us how it all works! This will give you a good idea of the practical aspects of running a market garden, hear about some of his highlights as well as some of the challenges faced, and provide you with an opportunity to ask an experienced farmer all your questions.
Workshop 5 – Marketing Your Product
Date: Saturday 10th August
Time: 9:45am – 2pm

- Introduction to food marketing, and an exploration of the many ways to sell your food product; how to have an effective farmers market stall, the experience of a small farm selling direct to retailers & restaurants and the benefits of value-adding.
Workshop 6 – Weeds, Pests & Diseases
Date: Saturday 21st September
Time: 9:45am - 2pm

- An onsite farm workshop & discussion of the potential weeds, pests and diseases that might arise, strategies on how best to manage them and the effect on the crop's outcome if not effectively mitigated.
Workshop 7 - Co-farming and Accessing Land for Your Future Farm
Date: Saturday 19th October
Time: 10am – 3pm
- Learn about co-farming models in practice here in Australia and abroad and get ideas in how you can access land via alternative pathways through conversations with Cultivate Farms, Future Feeders and Ori-Coop. 
Workshop 8 - Harvesting and Decision Making
Date: Saturday 9th November
Time: 9:15am -2pm
Location: Day's Walk Farm - 27 Koronis Rd, Keilor
Facilitators: Paul Miragliotta
- Learn how to correctly harvest your garlic, safely store & cure it, as well as how to braid and even preserve it! This is our final workshop together, and we will celebrate the finish of our time together as a group by feasting on a delicious pot-luck farm lunch one last time!
- Later we take what we've learned about marketing, combine it with personal preferences and intuition in order to make sound and effective group decisions about what to do with our garlic - all whilst wrapped up in the loving arms of Polykala's safe decision-making frameworks,
PUGF 2019 SITES
PUGF sites are selected by paying participants on a 'first in (ticket buyers) best dressed' basis. We hope to have all sites finalised by mid December 2018. Interested PUGF participants are encouraged to buy their ticket to secure their place in the program ASAP and notify us of their preference in the ticketing process. Upto 2 weeks before the course commencement, you are entitled to a 100% refund. 
2019 PUGF Site Description
Keilor Site - Flora Vic, Keilor
Located just half an hour's drive from Melbourne, these plots are found across the river from Paul Mirgaliottas organic farm at Flora Vic native grass farm.  Mike and Shelley are working with FI to run water from their big dam for irrigation and will share their shed for tool storage and crop curing. There is also a rototiller onsite that will come in handy throughout the program. The Maribyrnong River runs along the border of the property and is a great place for a swim after a long weeding session! (5 spots available) 
Ballan Site - Mohan's Walnut Farm, Denholms Rd/Gillespies Rd, Ballan
Located roughly 80km out of Melbourne, this is our most rural (and most peaceful) site. The property is 55 acres in total, and is currently being established as a beautiful walnut grove and English country garden. Accessible via the V-Line train and also driving (approx 1hr from Melb), you will be lunching under the beautiful elm trees or at one of the numerous op-shops in town. For the true rural experience within a very cute country town, sign up to this gorgeous site. (4 spots available)
Yarra Valley Site - Silvertine Farm, Old Warburton Rd, Wesburn
Silvertine Farm is just over an hours drive east of Melbourne. Also accessible by public transport, Silvertine is an organic & biodynamic vegetable farming business of Josh Tucker and Tobias Magar that sits on the the edge of the Yarra Valley Ecoss sustainable community living hub. This site is set in a beautiful rural bush location and offers all the necessary amenities for PUGF experience along with a chance to tap into a community of earth focused activists and artists. (4 spots available)
City Site, Collingwood Childrens Farm
Nestled between the banks of the Yarra River and the grounds of the Abbotsford Convent and only 5 km from the heart of Melbourne, the Collingwood Children's Farm sits on a patch known to be the the oldest continually farmed land by colonialists in the state of Victoria, with farming commencing in 1838. Always buzzing with activity, the pigs at CCF have generously offered to share a fallow yard in their sty, just below the quince trees, with 4 PUGF participants. You will need a current Working with Childrens Check and to register with CCF to be eligible to farm here. You can arrange this once you have bought your PUGF ticket ;-) (4 spots available)
To book your place in this unique experience please go to the Trybooking page from 3 December 2018 - 4 Early Birdtickets will be available at the reduce price of $890. Get in quick - places are limited!
For any questions or queries contact PUGF Program Manager at julia@farmerincubator.org
Location
Pop Up Garlic Farmer Program
In and around Melbourne,
Contact Details
This event is currently closed and no contact details are available