Certified Information Privacy Professional (CIPP/E) - Sydney
A two day course to prepare you for the Certified Information Privacy Professional - Europe (CIPP/E) exam.

Click here for the course outline, learning outcomes and our facilitators.
DATE
Thursday 31 October - Friday 1 November 2019
TiME
9am to 5pm
COST
Standard rate: $3,000 pp + GST.See the Terms and Conditions below if you cannot pay by credit card.
There is a $500 discount if you enrol in both the CIPP/E course and the CIPM course within a 12 month period; contact us for the discount code before registering for your second course.
Location
UNSW CBD City Centre
Level 6, 1 O'Connell Street, Sydney, NSW 2000
Contact Details
Andrea Calleia
Privacy Learning Manager, Salinger Privacy
M: 0459 021 796 E: andrea@salingerprivacy.com.au
See below the map for Terms and Conditions.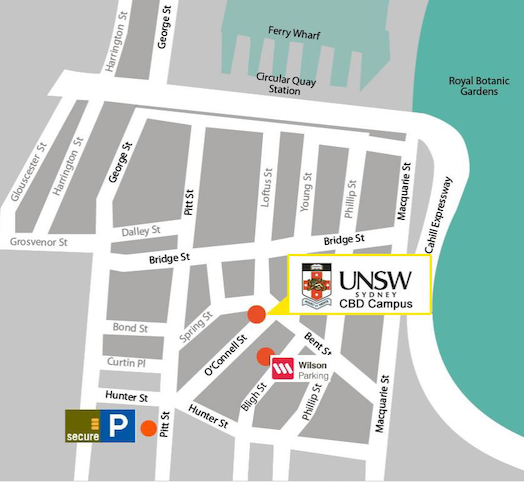 For public transport options to 1 O'Connell Street UNSW City Centre, please see Transport NSW. For parking, 1 O'Connell Street guests can receive a discounted all-day rate Monday to Friday at Secure Parking – 109 Pitt Street & Wilson Parking – Sofitel Wentworth (Entrance on Bligh Street). The Secure parking station is located at 109 Pitt Street, near the corner of Pitt and Hunter Street and the entrance to the Wilson parking is on Bligh Street rather than at the Hotel's entrance on Philip Street. All day parking is $45 for entry and departure between 6.00am and midnight the same day. Please go to UNSW City Centre reception to collect a follow-on voucher (Secure) or to have your ticket stamped (Wilson).
TERMS AND CONDITIONS
Salinger Privacy will take every opportunity to ensure that our training is a success. To enable us to offer a high quality of service, the following terms and conditions are applicable to your ticket purchase. Please read these carefully and if you have any questions, please contact us on (02) 9043 2632 or office@salingerprivacy.com.au

PAYMENT
Payments are made through the TryBooking website. TryBooking offers a secure payment gateway that accepts Visa, Mastercard and Amex debit or credit cards. Please contact the event organiser if you wish to be invoiced to pay by EFT instead of by credit card. Payment must be received in full to secure your place at this event.

CANCELLATION
We would be disappointed if you were to cancel your booking. However, we realise circumstances occasionally make this necessary. A booking cancellation can be processed via the TryBooking website up to 28 days prior to the training date. If the booking is cancelled the following conditions will apply:
CANCELLATION MORE THAN 6 WEEKS PRIOR - Full refund of ticket price.
CANCELLATION BETWEEN 4 AND 6 WEEKS PRIOR - 50% refund of ticket price.
NOTICE OF 28 DAYS OR LESS PRIOR TO EVENT - Non-refundable. The booking is transferable and can be allocated to someone else up until the day before the scheduled training date. Please advise Salinger Privacy of the name change at office@salingerprivacy.com.au

NON-ATTENDANCE
No refund is available for non-attendance.

TRYBOOKING COLLECTION NOTICE
If you do not wish to provide your name and email address, you will be unable to register for this event.  TryBooking will collect your personal information which is handled according to their privacy policy.  Please refer to their privacy policy for details on collection, use and disclosure of your information and how to contact them. The privacy policy can be found by selecting the Privacy link located at the bottom of this page.

SALINGER PRIVACY COLLECTION NOTICE
Salinger Privacy will use the information you submit via this form to register and manage your enrolment in this course, or to register your interest in future courses, as appropriate.  We will also add you to our mailing list to receive Product News emails.  You may unsubscribe from our Product News mailing list at any time.
We will not disclose your information to any third party unless doing so is authorised or required by law, or we have your consent to do so.  You have the right to access, or seek correction of, the personal information we hold about you, or to make a privacy complaint.  For more information please see our Privacy Policy.
This event is currently closed and no contact details are available