"Please contact our office if your Mobility Device is larger than a standard seat"…… Ph: 07 5446 2500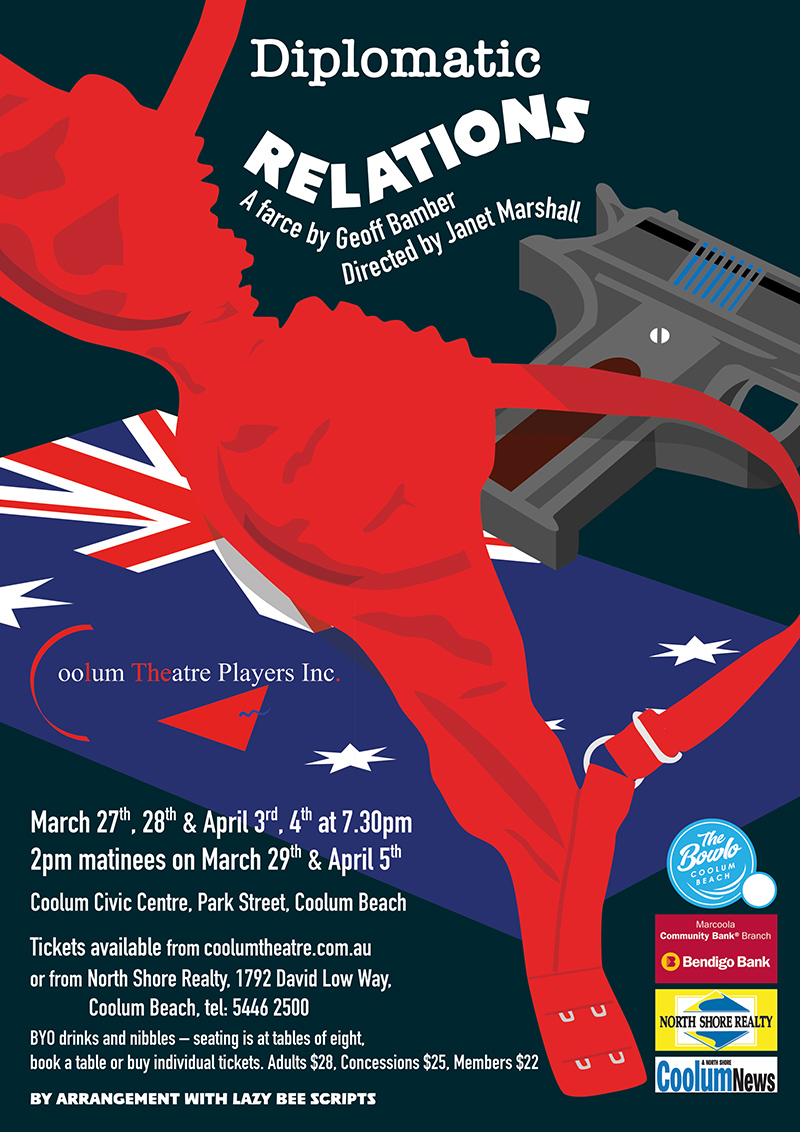 The CTP committee has decided, in the best interests of audiences and the wider community, to postpone performances of its current production of Diplomatic Relations, due to begin on March 27.
This decision was not taken lightly and comes after full consultation with, and the agreement of, the current cast and crew. Postponing the production at this point is, we believe, a pragmatic response to the need to anticipate and reduce the spread of the Covid-19 virus within our community, and subsequently to limit the growing pressure on our health services.
As an unfunded community theatre, this decision will have an impact on our finances, however, our instinct is to put people first.
We still intend to bring this very funny play to the stage when the crisis is over - we remain hopeful that this will be in the not-too-distant future. For now, we will be taking steps to refund tickets or make other arrangements and we will communicate the process to you as soon as we can.
In the meantime, we ask for your support and understanding.
"Please contact our office if your Mobility Device is larger than a standard seat"…… Ph: 07 5446 2500
DIPLOMATIC RELATIONS
March 27th, 28th & April 3rd, 4th at 7.30pm
2pm Matinees on March 29th & April 5th
Ticket Prices
Adults $28
Concession $25
Members $22
Synopsis
A fast and funny farce written by Geoff Bamber and directed by Janet Marshall, Diplomatic Relations is set in the Australian embassy in a small post-revolutionary country somewhere in south America. While the ambassador, Miranda Carruthers, tries to keep her husband's dodgy dealings and everything else on track, unexpected visitors, ex-lovers and an anarchist who's determined to create chaos all conspire against her. Can Miranda fight off the attentions of a would-be lover, Colonel Fegundez, prepare for a VIP visit and cover-up her husband's shady activities? And who's the girl who just can't seem to keep all her clothes on?
The seating for this show is tables of 8 (Please note that you don't have to book a whole table and we can't add extra chairs). You're encouraged to bring nibbles & wine/beer (wine glasses provided, no unmixed spirits please). We're BYO only – there are a couple of bottle shops within easy walking distance and some great restaurants for pre-show dining.
All of our shows are, of course, live theatre and this means that we can't rewind the action – therefore, popping that champagne cork/opening those crisps mid-show is a no-no. Please open your goodies before the action starts on stage.
Our shows are performed at the Coolum Civic Centre, Park Street, Coolum – click here for more information.
"Please contact our office if your Mobility Device is larger than a standard seat"…… Ph: 07 5446 2500
On-line ticket sales close 3 hrs before show starts. Tickets are available to be purchased at the door subject to availability.
This event is currently closed and no contact details are available