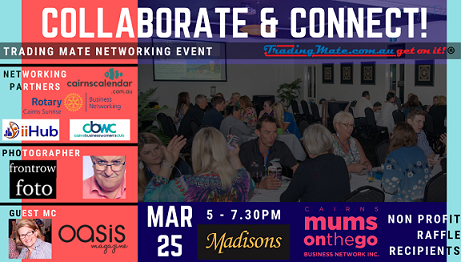 Being amazing at what you do in YOUR business is a fantastic start!
But we need to connect to others in order to grow and adapt with an ever changing economy, plus no-one ever got EVERYTHING done without a little help from their friends – right? Making connections, collaborating in your industry and with others in your region is super important to sustain any business.
Massive thanks to our Guest MC Jules – OASIS Division 7 CRC Candidate 2020
to our Event co-ordinator Cameron Matthew Choose Act Master Performance Coaching
& our Event Photographer Paul – Frontrow Foto BEHAVE YOURSELF – or not!!
Vlasta – President CBWC / Signature Staff "Being in business in Cairns for more than 20 years, I've seen many economic and industry changes – maintaining integrity & placing the business into a myriad of local platforms is my key to sustainability"
Petina – iiHub / Complete Business Solutions Solutions "iiHub is a not for profit, collaboration and skills development centre, built on social enterprise. We provide low cost access to mentoring, workshops, services and facilities"
Fiona – Gateway Media / cherrygift / Cairns Calendar "Diversifying your options means more opportunities to grow. Our new Cairns Calendar aims to provide both locals and visitors, a single platform to view ALL Cairns Calendar events, add your events for FREE!!"
Robin – Rotary Cairns Sunrise "Rotary is a global network of over 1.2 million neighbours, friends, business people, leaders and problem solvers who see a world where people unite and take action to create lasting change across the globe, in our communities and in ourselves. Rotary Cairns Sunrise is this in a nutshell, with us going back to our roots and embracing business networking at its core."
Light refreshments included - TM members - your first drink is on us :)
BRING A MATE FOR FREE! Brand new Non Trading Mates are welcome - one free admission per $22* member - $27.50* non-member ticket & as always $11 2nd person same business
New Trading Mates, you get a FREE ticket to join us for your first event as members!

Please feel free to donate a prize for the raffles - PROUDLY SUPPORTING MOTGBNI!
Mums on the Go is a supportive community of Cairns mothers and women who run their own business. We have been connecting and educating women for almost 6 years, this year we are taking our members and guests on a tour of Cairns, showcasing some of our locally owned cafes and venues.
Location
Madisons Function Rooms
upstairs at The Red Beret, 411 Kamerunga Road, Redlynch, Qld 4870
Contact Details
This event is currently closed and no contact details are available