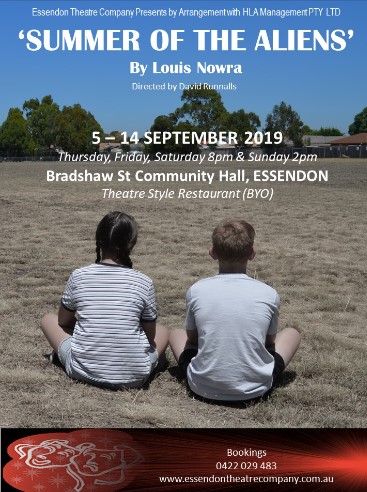 Summer of the Aliens
5 September 2019 8:00 PM to 14 September 2019 8:00 PM
Essendon Theatre Company - Theatre Resturant Style
Bradshaw Street Community Hall, 9 Bradshaw Street ( Off Buckley Street), Essendon Victoria 3040
Lewis lives in a housing commission suburb on the outskirts of the city, Melbourne with his single mother, sister, and grandmother, who is rapidly approaching senility. Lewis' obsessions with aliens masks his own adolescent confusion about the changing world around him. Lewis' world changes forever when his itinerant father, Eric, suddenly returns home, and Lewis discovers his best friend, Dulcie's heartbreaking secret. The three-act play is set in 1962, the year of the Cuban missile crisis.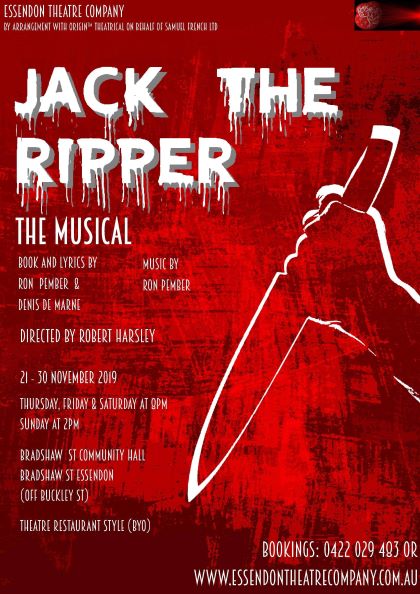 Jack The Ripper - The Musical
21 November 2019 8:00 PM to 30 November 2019 8:00 PM
Essendon Theatre Company - Theatre Resturant Style
Bradshaw Street Community Hall, 9 Bradshaw Street ( Off Buckley Street), Essendon Victoria 3040
The play is a musical reconstruction of incidents relating to the East End murders which took place between Friday, August 31st and Friday, November 9th, 1888, set in a Music Hall and the surrounding streets, as performed by the inhabitants of Whitechapel.