Sorrento Room
Bloom Sings Stevie Nicks, Carole King & Linda Ronstadt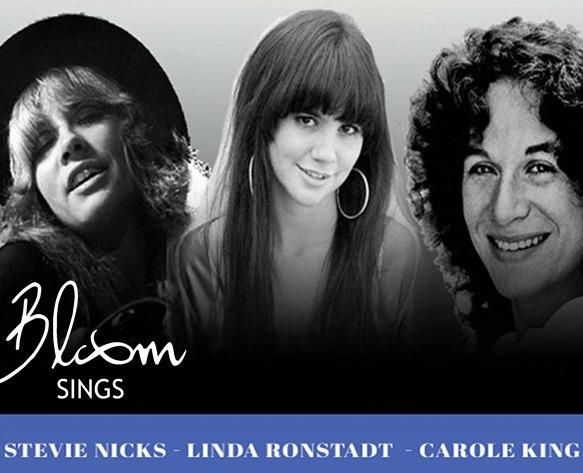 Saturday 6 August 2022 6:30 PM - 11:00 PM (UTC+10)
Stevie Nicks, Carole King and Linda Ronstadt are arguably three of the world's most recognizable voices. With combined record sales topping in excess of over 300 million units sold as well as an endless wealth of top 20 hits between them, they truly are three of the world's greatest.

In this brand new show, Melbourne singer/songwriter, Bloom, will have you experience the incredible hits that span several decades from the Grammy Award winning artists.
Bloom is highly applauded as one of Australia's greatest power vocalists in her own right and has already garnered International acclaim for her effortless soulful vocal resonance of power vocalists Adele and Amy Winehouse with her Adele & Amy Songbook tour and more recently a national tour performing the hits of one of her idols in the Linda Ronstadt Songbook.
Some of the hits Bloom has handpicked in this incredible new show features some of Linda's greatest hits including You're No Good, That'll Be The Day, Blue Bayou. Carole King's I Feel The Earth Move, Natural Woman, It's Too Late and Stevie Nicks; Rhiannon, Landslide, Dreams and many many more…
Come and be charmed by the Australian vocal powerhouse that is Bloom and celebrate all that is Stevie Nicks, Carole King and Linda Ronstadt.
OFFER 1 Dinner & Show - $66 ( Main Meal only) & show
OFFER 2 Show Only - $39 Limited tickets but you can still enjoy a meal down stairs by booking our A La Carte restaurant prior to the show.
Desserts are always on offer to purchase on the night at the concert
Concert is performed upstairs in the Sorrento Room @ Centro CBD
please note that unfortunately at this stage there is no disable access or lift
Doors open 6.30pm Dining starts 7.15pm Show time 8pm
Booking Fees Apply