Sorrento Room
Tribute to Santana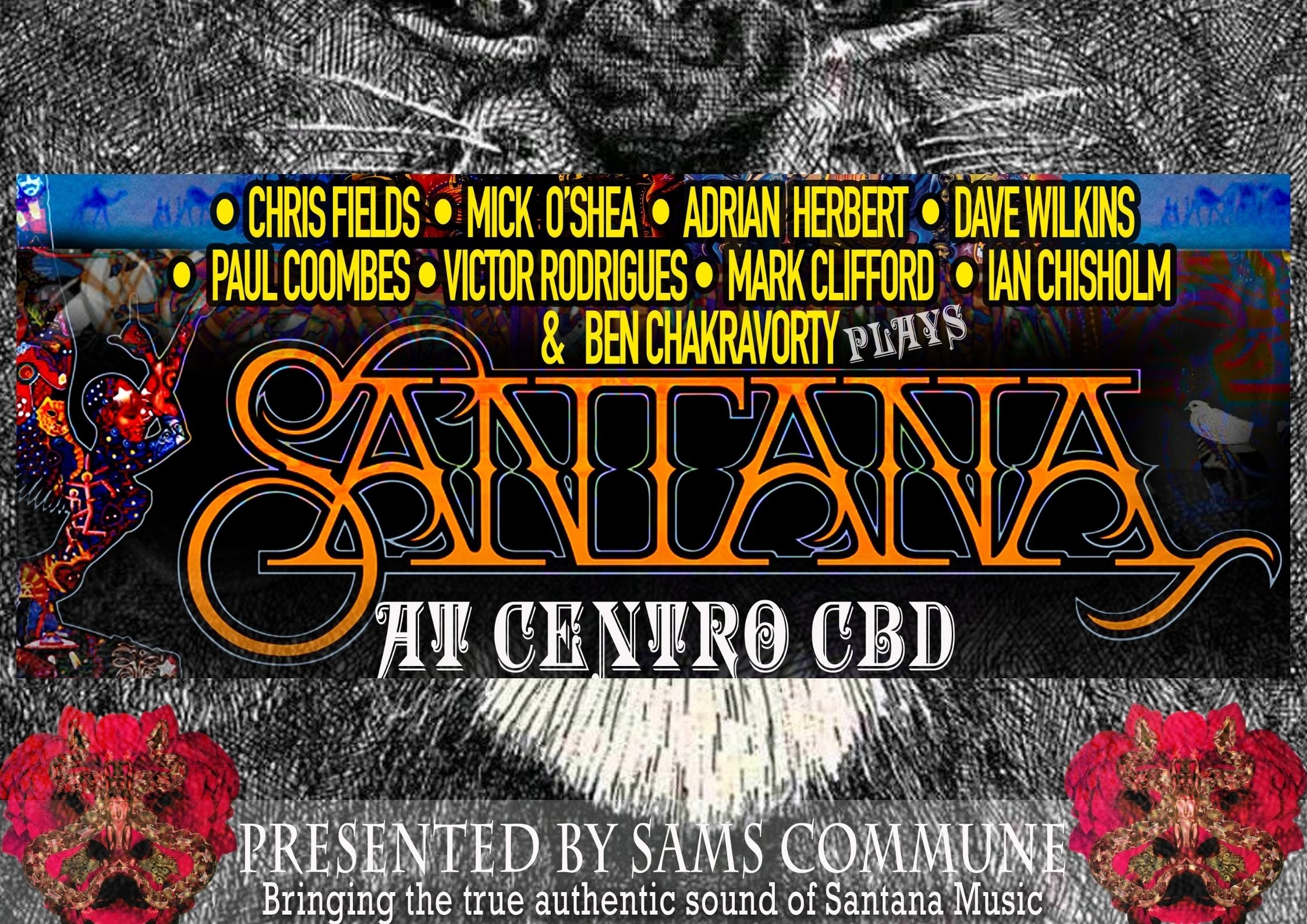 Friday 17 June 2022 6:30 PM - 11:00 PM (UTC+10)
SANTANA !!!!
Bringing you that mesmerising and hypnotic sounds of the WOODSTOCK and TANGLEWOOD era, which had put Latin music and its polyrhythmic grooves on the map of BluesRock and Rock n Roll Hall of Fame forever, since the Summer of '69
A rare and intimate performance at The Centro CBD, by exceptional Australian talent and internationally acclaimed recording and touring artists from Sydney music scene.
Tickets on sale now !!!
SAMSCOMMUNE is a Sydney, Australia based JamBand & Special Tribute Act with their musical taste and influences widely spreading from BluesRock ,Latin Rock, Soul, Funk, SouthernGospel to Fusion Hard Jazz, World, music.
The band draws its inspiration from artists like the names of Santana, The Allman Brothers Band, The Band, Grateful Dead, Derek and the Dominos, Tedeschi Trucks Band, Miles Davis, John Coltrane, Mahavishnu Orchestra, JImy Hendrix, James Brown, Curtis Mayfield , and many such greats and easily recognisable classic jamband sound born out of the 60's and 70's American Counterculture Era.
This lineup of talented Sydney based musicians and singers behind this JamBand and Special Tributes Act project was conceived by Australian guitarist Ben Chakravorty in the summer of 2017 to re-introduce that classic sound and culture to our local music scene.
The energy, vibe and essence of their tasteful, grooving and dance music is a treat for every audience who comes out to watch SamsCommune playing live.
AllStar Super Group
Mick O'Shea - Drums Chris Fields - Congas and Latin Percussion Adrian Herbert - Percussion
Mark Clifford - Keyboards and Organ Paul Coombes - Piano and Guitars Ben Chakravorty -Guitars Ian Chisholm- Bass
Victor Rodrigues - Vocals Dave Wilkins - Vocals
OFFER 1 Dinner & Show - $66 ( Main Meal only) & show
OFFER 2 Show Only - $39 Limited tickets but you can still enjoy a meal down stairs by booking our A La Carte restaurant prior to the show.
Desserts are always on offer to purchase on the night at the concert
Drinks can now be delivered to your table by ordering & paying through our Mr YUM Ordering App
Concert is performed upstairs in the Sorrento Room @ Centro CBD
please note that unfortunately at this stage there is no disable access or lift
Doors open 6.30pm Dining starts 7.15pm Show time 8pm
Booking Fees Apply