Sorrento Room
Casey Donovan - Bluesday Tour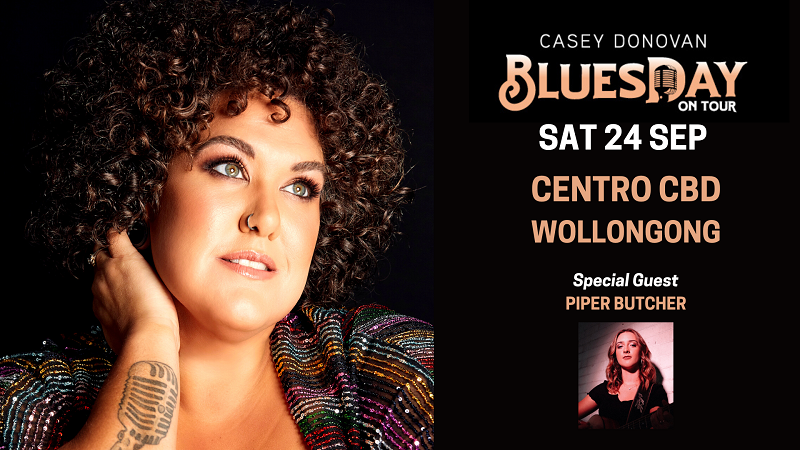 One of Australia's most popular and loved Artists, Casey Donovan, takes her 'Bluesday' tour on the road

From the tender age of 16 winning Australian Idol (2004) to the 'Queen of the Jungle' in I'm A Celebrity Get Me Out of Here' (2017), to the spontaneous standing ovations mid-show as the lead Judy Bernly in 9 TO 5 the Musical (2022), celebrated first nation's artist, Casey Donovan has cemented herself as one of the country's finest music, stage and screen talents
Throughout the past two year's covid lockdowns, Casey has kept her hundreds and thousands of fans entertained weekly with her raw and honest, 'Tuesday Bluesday' online sessions, often parting with some additional self-mindfulness along the way to help herself and everyone else through. 'Bluesday is a show that uses music for healing, thought, interaction, distraction, storytelling whether it be music or someone else's", says Casey. Fans would request a song and Case would also play her own favourites on acoustic guitar, direct from her loungeroom.
Casey has wrapped all the goodness of Bluesday of the past two years into a show to take on the road with all the 'feels' that we need and want.
'Queen' is a title often bestowed on Casey with her iconic performances at the Sydney Opera House for New Year's Eve and Australia Day, plus the annual Carols by Candelight in Melbourne. "Casey Donovan has become ABC's New Year's Eve insurance policy. She can sing anything better than just about anyone else, including the people who originally sang the songs she's performing – and she showed us again, why she fits her billing as 'Queen of New Year's Eve' – Sydney Morning Herald.
Donovan is an ambassador and advocate of First Nations peoples, artists, industries and pro-active initiatives, RU OK, MMAD, Camp Quality, Starlight Foundation and a founding member of the New South Wales Indigenous Chamber of Commerce.
Special Guest Support Piper Burcher
Quotes:
"The highlight of the show and the one that audience was buzzing about on the way out of the theatre was Casey Donovan as Judy Bernly. A phenomenal voice! Donovan has featured in a few musicals now, though this role surely will smash any pre-perceptions you might have had about what kind of roles this talented performer can play!" – Star Observer
"Donovan's powerhouse voice is in fine form – she earned a spontaneous standing ovation from the audience" The Guardian
OFFER 1 Dinner & Show - $90 ( Main Meal only) & show
OFFER 2 Show Only - $65 Limited tickets but you can still enjoy a meal down stairs by booking our A La Carte restaurant prior to the show.
Desserts are always on offer to purchase on the night at the concert
Drinks can now be delivered to your table by ordering & paying through our Mr YUM Ordering App
Concert is performed upstairs in the Sorrento Room @ Centro CBD
please note that unfortunately at this stage there is no disable access or lift
Doors open 6.30pm Dining starts 7.15pm Show time 8pm
Booking Fees Apply