Sorrento Room Special Dance Events
THE ROD STEWART & BEST OF BRITAIN SHOW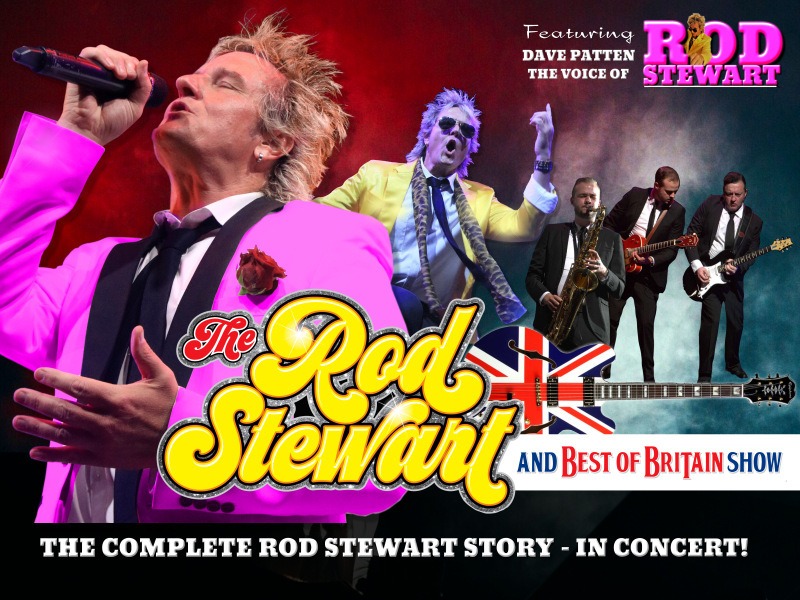 In modern music, few voices are as recognisable as that of Rod Stewart!
With over 300 million records sold and a career spanning more than 50 years, Sir Rod remains one of the world's most loved entertainers of all time
Dave Patten, aka "The Voice of Rod Stewart" Has been dazzling international audiences on stages around the world with his charismatic
portrayal of the living legend, Sir Rod, Live in Concert, capturing Rod's cheeky, fun-loving spirit with those famous gritty vocals superbly!
Rod's greatest ever hits, served with a dash of Britain's legendary best!
This world class double feature concert production tells the complete Rod Stewart story. Celebrate Rod's incredible 50 years of classics
from his first #1 smash "Maggie May" in 1971 through decades of his greatest hits loved by generations!
Sailing | You're in my Heart | Tonight's the night | Hot legs | I don't want to talk about it are just the beginning of the magic!
The story begins with British 60's Invasion hits that inspired Rod's early life in music. Rod's closest friends and fellow megastars are also
honoured in a special segment of the show featuring unforgettable music by Britain's legendary Best!
With slick multi-media production and costuming, backed by the amazing 'Best of Britain Band,' this international touring show is a must see!!
What people are saying about The Rod Stewart & Best of Britain Show
"Rod & The best of Britain, a glorious double dose of fun from the song book of our generation"
"Tonight's the Night" we saw a superb show not to be missed!"
"We caught Dave Patten as Rod & his world class band in Asia, Brilliant!"
OFFER 1 Dinner & Show - $69 ( Main Meal only) & show
OFFER 2 Show Only - $39 Limited tickets but you can still enjoy a meal down stairs by booking our A La Carte restaurant prior to the show.
Desserts are always on offer to purchase on the night at the concert
Drinks can now be delivered to your table by ordering & paying through our Mr YUM Ordering App
Concert is performed upstairs in the Sorrento Room @ Centro CBD
please note that unfortunately at this stage there is no disable access or lift
Doors open 6.30pm Dining starts 7.15pm Show time 8pm
Booking Fees Apply
Important
Tickets will not be exchanged or refunded for any reason including Covid illness or isolation unless the show is cancelled or rescheduled but tickets can be resold.