Sorrento Room
Buckley 25 years On - A Jeff Buckley Tribute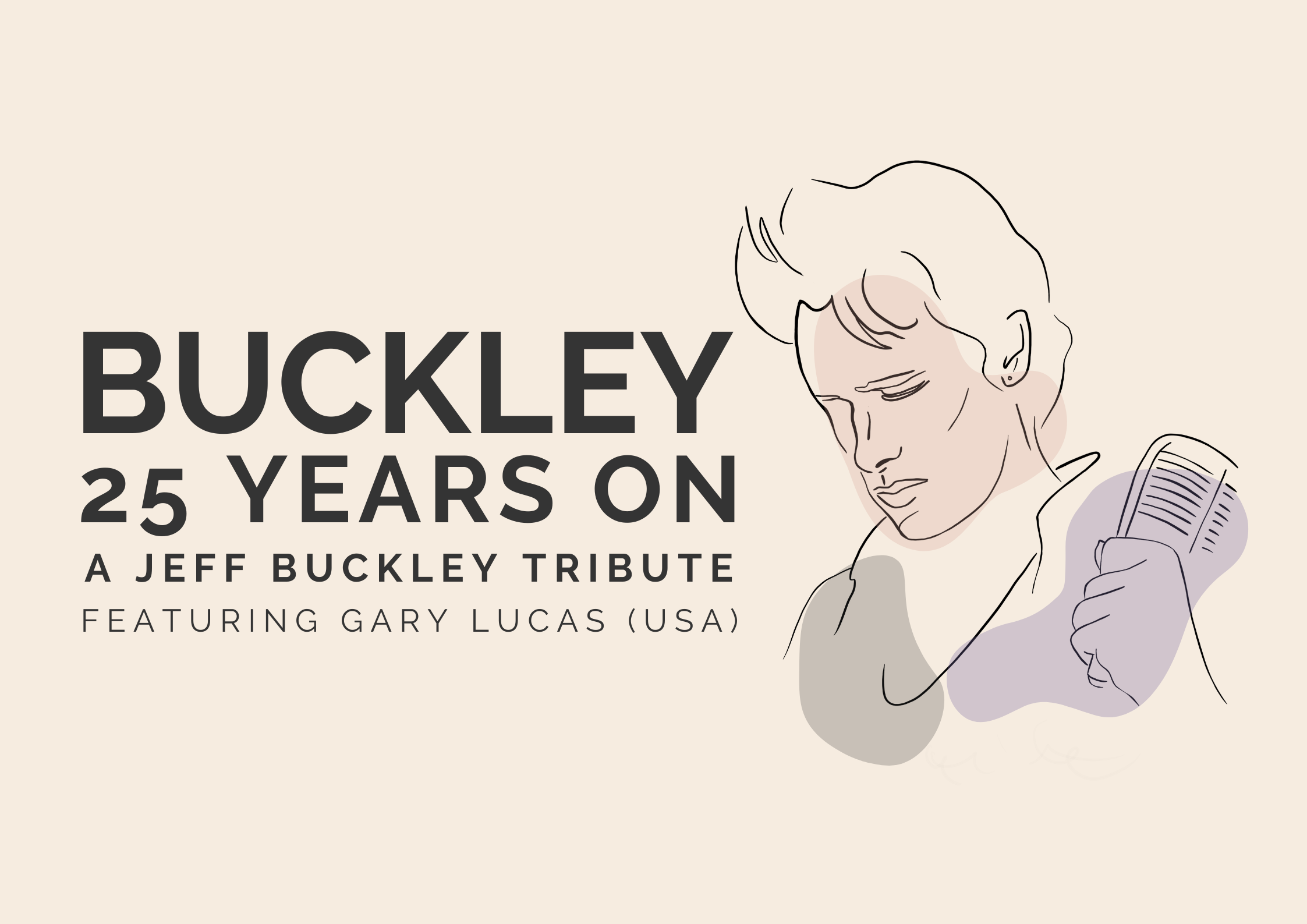 Buckley, 25 Years On is a celebration of the life and career of one of music's most
cherished voices, Jeff Buckley.
The show brings together local artists with NYC guitarist Gary Lucas (Captain
Beefheart, Lou Reed, John Cale, Patti Smith, Nick Cave) commemorating the
relationship between Jeff Buckley and the love which remains for his music here on
Australian soil.
Through music, film, and memoir, the show documents the story of how Lucas and
Buckley came to work together — a partnership which resulted in the co-written
anthems 'Mojo Pin' & 'Grace', tracks that introduce Buckley's highly acclaimed 1994
album of the same name (which has since gone 8x Platinum in Australia, having sold
over 2.5 million copies worldwide).
Audiences will get the opportunity not only to listen in to first-hand recounts of the
friendship between the pair, insights into the creative process and the joy of
collaboration, but also see a mix of previously unreleased & archive footage, as well
as hearing the music that they know and love.
With a setlist that incorporates tracks from Buckley's father, lauded American singersongwriter
Tim Buckley, Jeff's early compositions and collaborations with Gary Lucas,
cover material from Buckley's gigging repertoire (Bob Dylan, Van Morrison, Johnny
Cash, Edith Piaf), and classics off of 'Grace', audiences will be able to enjoy a night of
world-class music, played and celebrated by world-class musicians.
It is an intimate insight into the music and life of Jeff Buckley, whilst honouring the
brilliant legacy he has left behind, 25 years on.
"Jeff Buckley was a pure drop in an ocean of noise" — Bono
"(Gary Lucas is) one of the best and most original guitarists in America... a modern
guitar miracle' — Rolling Stone
OFFER 1 Dinner & Show - $68 ( Main Meal only) & show
OFFER 2 Show Only - $39 Limited tickets but you can still enjoy a meal down stairs by booking our A La Carte restaurant prior to the show.
Desserts are always on offer to purchase on the night at the concert
Drinks can now be delivered to your table by ordering & paying through our Mr YUM Ordering App
Due to catering tickets are closed off on the day of the concert
but can still be purchased by phone or emailing us.
Concert is performed upstairs in the Sorrento Room @ Centro CBD
please note that unfortunately at this stage there is no disable access or lift
Doors open 6.30pm Dining starts 7.15pm Show time 8pm
Booking Fees Apply