Sorrento Room
Steve Balbi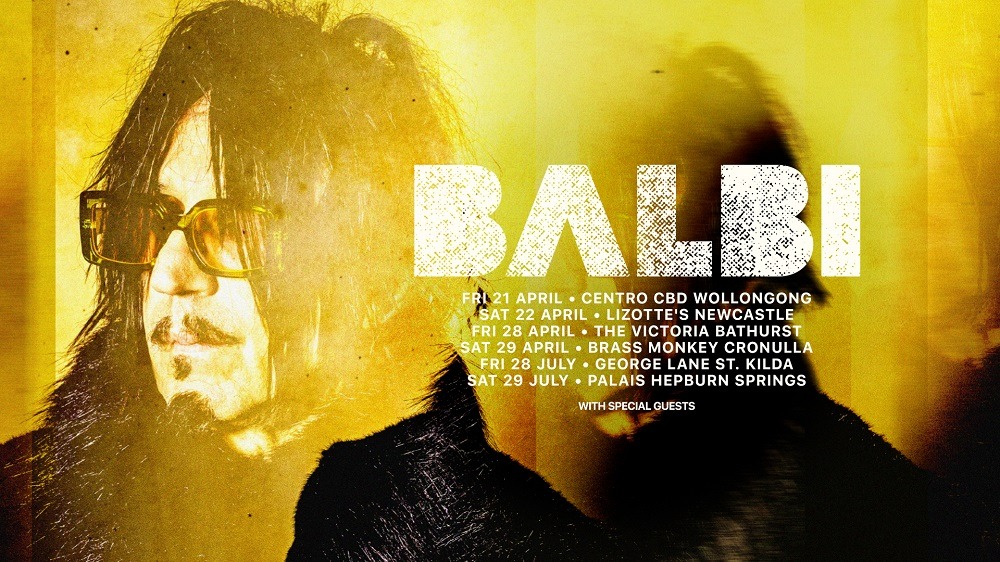 Friday 21 April 2023 6:30 PM - 10:30 PM (UTC+10)
The creative chameleon Steve Balbi has just announced a run of tour dates to promote his new track – We Were Lost – which dropped on Friday the 17th of February through Triplespeak/Metropolitan Groove Merchants (MGM).

We were young and divine, or the devil in disguise, living on a dream... A sensuous, impossibly romantic journey, this latest song by the artist, composer, and producer Steve Balbi casts new light upon the way, following the recent reformation of Noiseworks. It also forms part of a 5-track EP to emerge throughout the first half of 2023. Recorded and produced in his Sydney studio, Balbi plays all instruments on the track, with Pete Drummond on drums. Mixed in collaboration with Tony Wall, 'We Were Lost' was mastered by fellow electric hippy Justin Stanley.

From his Sydney studio, which he affectionately calls his happy place, Balbi reflects upon his latest release. 'It started out as a totally different song. I'd written the melody in an awkward key for me, so I changed the melody, I changed the lyrics, I changed the chords, and I kept throwing stuff at it, so it became a different song. What's the song about? Well, it's a metaphoric journey through childhood. Driving down a road, creating this masterpiece,
being young and invincible. To be honest, I think we needed a miracle to make it through, and we did. But I found myself lost for many, many years. I guess that, in a nutshell, is what the song's about. It's not the happiest song you'll ever hear but it's sung through the lens of victory and survival. In this sense, I guess ultimately, it is a happy song. I wasn't sure that I was going to release it, but I really feel something for this song, so I hope that you do too.'

His last LP I Think I Know For Sure, like the new track 'We Were Lost', was entirely written, recorded, and produced by Steve Balbi; with Pete Drummond (Dragon, Eirie) on occasional drums. This must surely make Balbi the quintessential musician's musician, a tag that he rejects with humility. His performances live on stage are moments of inspiration too, captivating, energetic, and powerful, yet intimate and endearing.

Don't miss this special show!
PHOTO BY TIME BRADSHAW
OFFER 1 Dinner & Show - $68 ( Main Meal only) & show
OFFER 2 Show Only - $42 Limited tickets but you can still enjoy a meal down stairs by booking our A La Carte restaurant prior to the show.
Desserts are always on offer to purchase on the night at the concert
Drinks can now be delivered to your table by ordering & paying through our Mr YUM Ordering App
Due to catering tickets are closed off on the day of the concert
but can still be purchased by phone or emailing us.
Concert is performed upstairs in the Sorrento Room @ Centro CBD
please note that unfortunately at this stage there is no disable access or lift
Doors open 6.30pm Dining starts 7.15pm Show time 8pm
Booking Fees Apply
Important
Ticket cannot be exchanged or refunded for any reason including Covid illness or isolation unless the show is cancelled or rescheduled but tickets can be resold.