BUILD A CANOE​ | MALENY WOOD EXPO 2023 (CANCELLED)
with Brian Jones | 3 day workshop | $750 per team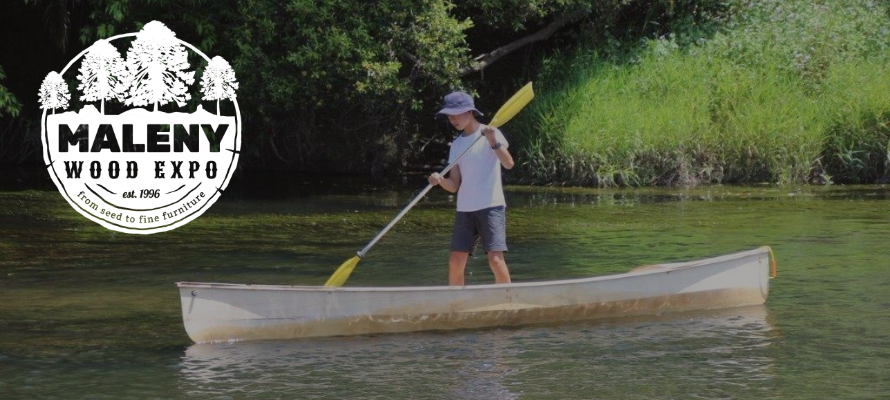 About
Pull together a team to join experienced boat maker Brian Jones and build your very own 3.6 m marine ply canoe!
In three days your team will have a fully functional (and floating) canoe to launch into a local waterway.
All parts needed to complete the build will be pre-cut and supplied as part of the workshop.
The team will then sew them together, glue the seams (joins), fit some gunwales, and sand everything smooth ready for decoration which you can then go on to do post-workshop.
So round up your family, friends, or fellow students and form a team to build a canoe!
Each canoe team needs one adult and up to 6 helpers/students/children.
Cost: $750 per team INCLUDES A MALENY WOOD EXPO 3 DAY PASS & T-SHIRT FOR ALL PARTICIPANTS
When:
Saturday April 29, 9am - 4pm

Sunday April 30, 8am - 4pm

Monday May 1, 8am - 3pm
Participants are required to attend all 3 days to complete their project.
But book quickly, there's only space for 7 teams!
What to wear and things to bring:
ABOUT BRIAN JONES
Brian is a retired teacher who is passionate about building boats and getting out on the water, be it sailing, steaming or paddling.
After 38 years of Primary Teaching, he began teaching Literacy and Maths part time to various groups including early school leavers, indigenous youth, men's groups, and carpenter's apprentices in the local TAFE.
To make the lessons more hands-on and practical, he started building cardboard model boats. This led to building dinghies and skiffs, and to increasing numbers of plywood canoes which he had designed to be easy to build using stitch and glue construction. This has led to constructing more than 170 canoes in various schools and locations in Australia.
Brian has built stitch and glue canoes with students in high schools, TAFE, the National Maritime Museum in Sydney, the Wooden Boat Festivals in Hobart, Rhyll (Phillip Island, Victoria), and Maleny in Queensland. He loves the tremendous sense of pride and self-worth that building their own craft brings for many students.
Brian has also built boats for himself including canoes and kayaks, sailing dinghies, a seven-metre steamboat, and a 1920s design speedboat!
His aim is to show as many people as possible how easy and rewarding it is to get afloat in a craft they have built themselves!
Location
Get directions
Maleny Showgrounds
13 Maleny-Stanley River Road, Maleny QLD 4552