HANDHELD CARVING WORKSHOP | MALENY WOOD EXPO 2023
with Don Powell | 2 day workshop | $275 per person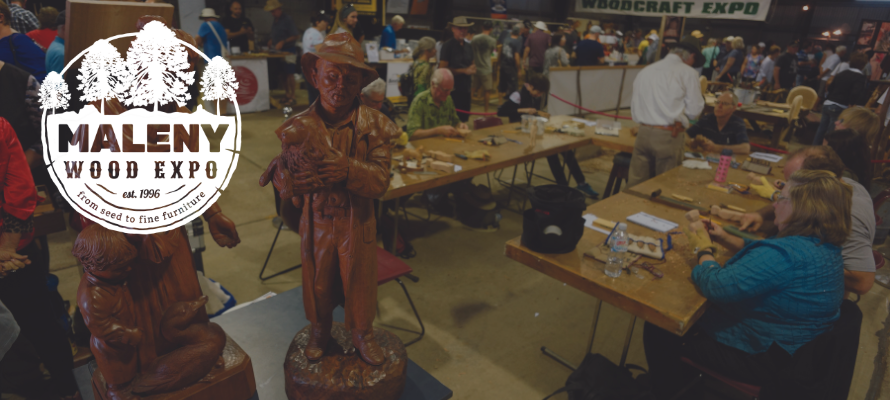 About
Join master woodcarver Don Powell for an immersive two day workshop learning the fine art of handheld woodcarving.
This is your chance to work with an accomplished woodcarver who is widely acknowledged for his craft and skill as a mentor and teacher.
The beauty of hand-held carving is that it provides an excellent path for new carvers to start carving without the expense involved in larger carving which necessitates numerous full size chisels and other accessories such as workbenches, vices and of course, much larger pieces of timber.
Don will give one-on-one tuition and demonstration, while everyone will share in group tuition.
He will demonstrate correct techniques for every stage of carving. He will also cover tool sharpening, design and timber selection, and answer any questions you may have on the various aspects of woodcarving.
Projects will be pre-prepared in good quality carving timber.
This workshop offers a great opportunity for individual attention from a master carver, and caters for everyone from raw beginners to experienced carvers.
Book quickly, 10 spots only!
Cost: $275 per person INCLUDES MALENY WOOD EXPO 3 DAY PASS
Age: Suitable for 18 years and over
When:
Participants attend both days
Saturday 29th April, 9 am - 3 pm

Sunday 30th April, 9 am - 3 pm
All tools and materials provided.
Beginner and advanced carvers are welcome.
What to wear and things to bring:
Please wear covered shoes.

Please bring your own carving glove (these can be purchased at the Wood Expo or prior - limited sizes available at the Wood Expo)
ABOUT DON POWELL
Hand held carving caught Don's attention at the early age of 12 years old. Many carvers throughout the world actually specialise in hand held carving.
Don carves jewellery pieces and miniatures using hand held carving and this will be covered during the workshop.
Don has carved and designed a diversity of intricate pieces over the years including a mediaeval chess set. He is often working on several projects simultaneously as well as writing feature articles for the Australian Wood Review.
He is known for his work on St Mary's Cathedral in Sydney – the sculpted figures of the winged lion, beast, eagle, the man and the lamb on the great Cathedral Chair. He also carved 40 miniature heads as part of this project. All carvings were done in Queensland maple.
Don was awarded equal first place in the inaugural Wootha Prize in 2004 with his carving 'Pandora's Box', and you will see his works displayed at the Maleny Wood Expo.
Maleny Showgrounds
13 Maleny-Stanley River Road, Maleny QLD 4552