MAKE YOUR OWN BAMBOO FLUTE | MALENY WOOD EXPO 2023
with Noel Dowling | Windelf Flutes | 3.5 hr workshops | $50 per person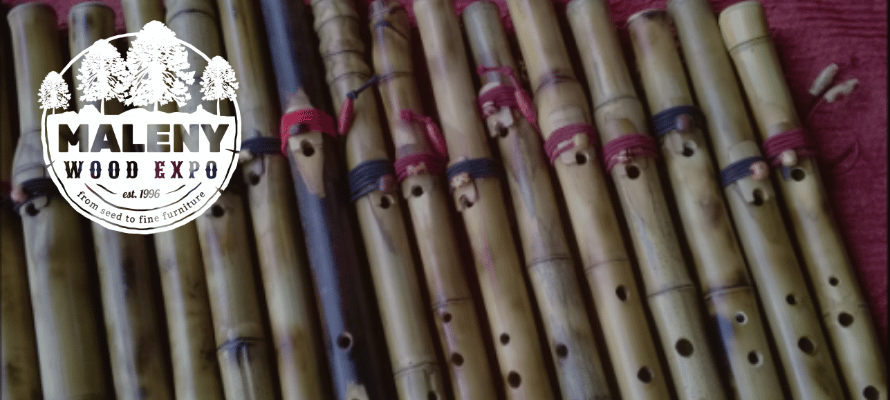 About
Join Noel for a fun and interactive workshop making your very own bamboo flute!
Turn an invasive weed into a beautiful musical instrument that you get to keep as part of the workshop.
A shakuhachi, Native American or transverse flute can be made on the day.
Heat treated Aurea bamboo blanks are provided as are all tools.
The workshop involves measuring, sanding, drilling and use of some small chisels. the desired key.
Book quickly, 16 spots per workshop only!
Cost: $50 per person INCLUDES MALENY WOOD EXPO 1 DAY PASS
Age: Suitable for 11 years and over (younger children can participate when accompanied by an adult)
When:
Daily workshops on
Saturday 29th April, 9 am - 12.30 pm

Sunday 30th April, 9 am - 12.30 pm

Monday 1st May, 9 am - 12.30 pm
All tools and materials provided. No experience necessary.
ABOUT NOEL DOWLING
Noel was captivated when he first heard the mystical, haunting sound of the shakuhachi flute.
This led him to explore the fascinating and mysterious world of bamboo flutes.
Having an ample supply of running bamboo on a nearby property and some woodworking experience, Noel began to make his own flutes in his small workshop in the beautiful Noosa hinterland.
That was about 20 years ago. Soon there were requests for flutes from friends and acquaintances and the hobby grew into a full-time business.
Noel now sells a variety of his flutes worldwide from his website.
Location
Get directions
Maleny Showgrounds
13 Maleny-Stanley River Road, Maleny QLD 4552