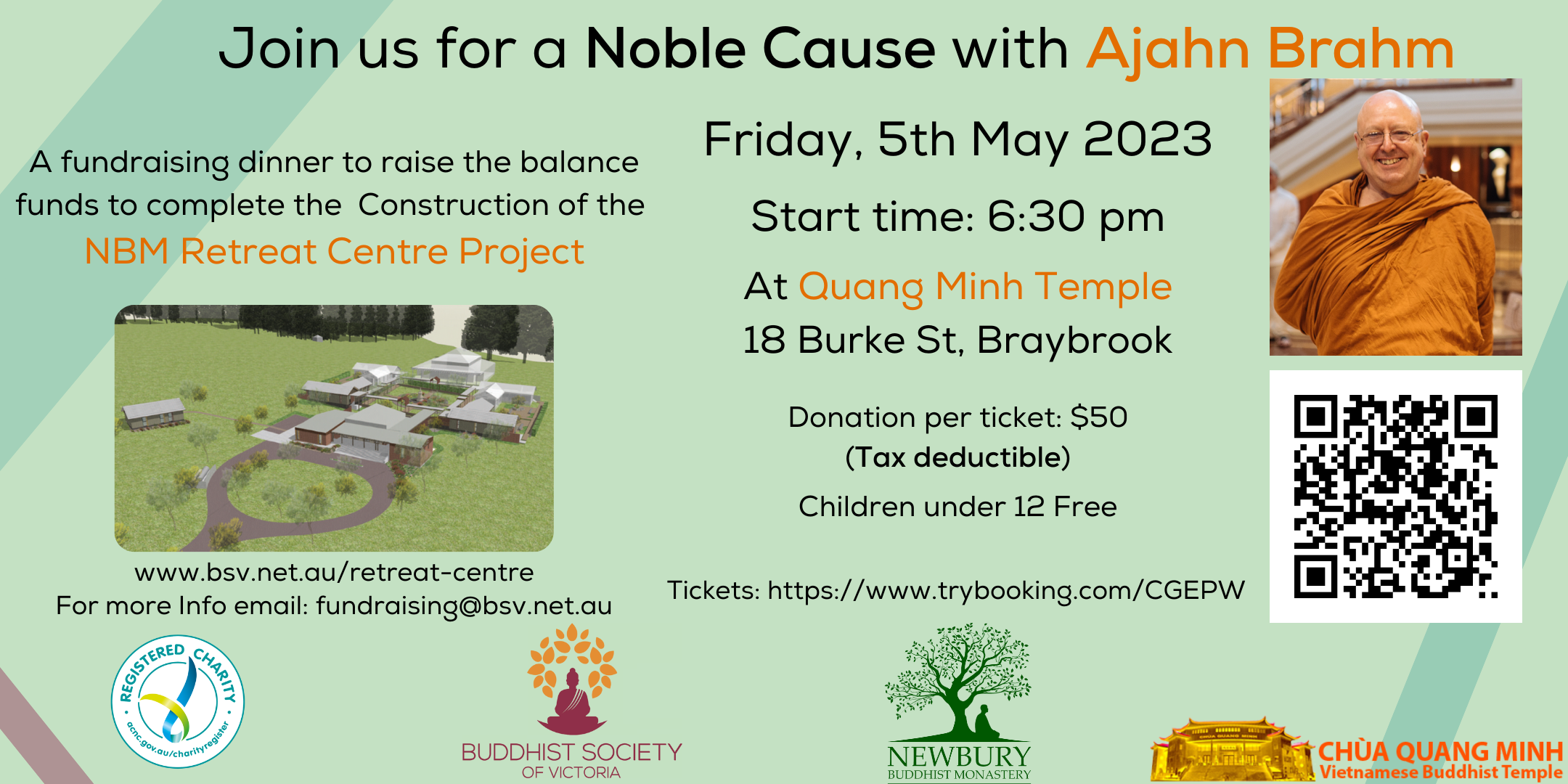 Join us for a Noble Cause with Ajahn Brahm
Quang Minh Temple [18 Burke Street, Braybrook]
The Buddhist Society of Victoria (BSV) invites you to attend a fundraising dinner to complete construction of the NBM Retreat Centre Project

The program includes:
- Welcome speech by Venerable Thich Phuoc Tan (from Quang Minh Temple)
- Talk by AJAHN BRAHM
- 3 course meal (vegetarian) with non-alcoholic drinks
- Auction

The project is in need of $501k to meet the following Project Expenses:
• Additional funding needed to pay for Cost Escalation of Construction Materials due to Post COVID issues affecting the building industry.
• Cost of Furniture Fittings and Equipment. The building project has commenced in Oct 21 and is anticipated to be completed in July 23.

For more information, please contact fundraising@bsv.net.au or go to https://www.bsv.net.au/retreat-centre
About Newbury Buddhist Monastery (NBM):
Set in tranquil surroundings, the NBM was officially opened by Ven Ajahn Brahm in May 2015. It supports developing a community of Buddhist monks, nuns, lay men and women.
We invite you to view the NBM website, https://www.bsv.net.au/monastery/, for further details about NBM and the building project.
About the speaker:
Ajahn Brahm is a popular Buddhist teacher to a growing international audience of people keen to learn meditation and develop a deeper spiritual understanding. He is also the founding father of an emergent Australian forest tradition of Buddhist monasticism focused on being true to the original roots of the Buddha's Teaching of Dhamma and Vinaya. Ajahn Brahm is the Spiritual Advisor of the Buddhist Society of Victoria.