AAADA ANTIQUES & ART FAIR MELBOURNE 2023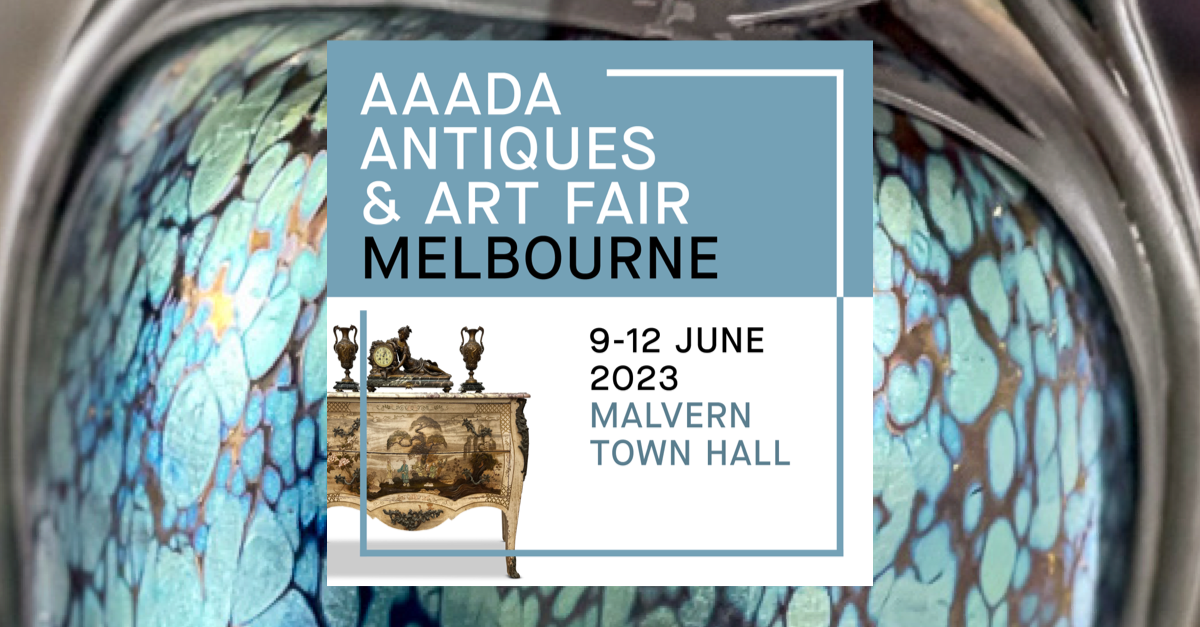 About
The Australian Antique & Art Dealers Association's (AAADA) Melbourne Fair, is returning to the iconic Malvern Town Hall over the King's Birthday Long Weekend. Giving you the chance to view or purchase a curated range of homewares, art, furniture and jewellery from all eras.

AAADA members are the best in the industry, with combined knowledge of history and craftsmanship in their chosen fields surpassing the ordinary. At the AAADA Antiques & Art Fair Melbourne our members and guest exhibitors come from all over Australia. You can expect them to bring you the finest pieces, using their expert knowledge and guided by the AAADA Code of Practice.

Purchase your tickets online and be automatically entered for a chance to win $1,000 to spend at the Fair. Entries close 5pm, 7th of June 2023 (AEST).
T&Cs apply, see website for details.
Malvern Town Hall
1251 High Street, Malvern VIC 3144
OPENING HOURS
King's Birthday Long Weekend

Friday 9 June 4-9pm
Opening Preview - Browse the fair, while enjoying light refreshments and wines from Scotchmans Hill

Saturday 10 June 10am-6pm
Sunday 11 June 10am-6pm
Monday 12 June 10am-3pm
TICKETS
Opening Night (9 June) $40 Online / $50 at the Door
General Admission (10-12 June) $20
Concession (10-12 June) $15
Children under 16 FREE
Tickets available online or at the door.
Although tickets are allocated to a particular date, they are also valid for any general admission day (10-12 June 2023)
Return entry tickets available on request.
SCOTCHMANS HILL EVENING DRINKS
Saturday 10 June 4-6 pm
Sunday 11 June 4-6 pm
Time your visit to the Fair where you will be offered wines from Scotchmans Hill while browsing the fair.
TOURS
Times to be advised
Join one of our knowledgeable Exhibitors on a fascinating free tour of the fair, looking at the most interesting pieces.
ABOUT THE AAADA
The Australian Antique & Art Dealers Association is the leading industry body representing Antique and Fine Art dealers in Australia. Our members operate well established businesses, are respected for their expertise in their chosen fields, and continually seek to expand that knowledge. The AAADA is consulted by Government Agencies and Collectors Societies on all matters relating to Antiques and the Fine Arts. AAADA members offer professional advice and a commitment to advancing the understanding of Antiques and Fine Arts in the Australian community.
---
CONTACT
aaada.org.au | info@aaada.org.au | 0498 059 661 | Facebook | Instagram | #aaadamelbfair | #aaada
For updates please join our mailing list