BRIDIE KING & THE SUNBEARS- Live @PRATTEN!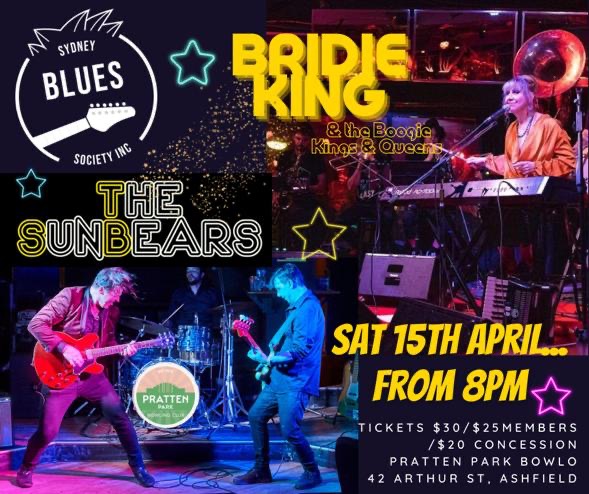 About
Bridie King has been a driving force on the Sydney blues scene for the past four decades as a performer, band leader & tutor to some of Sydney's most prodigious keyboard talent.

The blues is about time and feeling and that's what you hear whenever Bridie King runs, pumps, stamps, strokes and rolls her hands across the piano keys. There are some terrific boogie woogie pianists in this country but none better than Sydney's Bridie King. Bridie shows this everytime she brings the house down whether she's playing a pub gig in the Inner West, or on a festival stage!

2022 was the year of The SunBear! The band opened for Suzie Quatro at The Enmore, were voted SBS favourite 'Emerging Artist" played festivals around the country, had a #1 hit with their single 'Naughty Boy' & locked down a Euro Tour in 2023.

Their sound blends George Thorogood passion, AC/DC raw crunch & John Mayer soul. The SunBears are like a mentos mint shoved in a coke bottle, ready to explode in all the right ways!
Location
Pratten Park Bowling Club
42 Arthur St, Ashfield NSW 2131